After nearly two months of hype, it's finally time for Finola Hughes to appear on All My Children. Hughes will join the cast as Alexandra Devane, a woman shrouded in mystery. There's speculation that Alexandra is either a close relative to---or the same---character Hughes played previously on the ABC sister soap General Hospital. Her first airdate is scheduled for this Friday, July 23rd.
>
From 1985 to 1992, Hughes played the popular Anna Devane on
General Hospital
. In 1991 she won an Emmy for her work on the show. The character that Hughes is slated to play on AMC is Alexandra Devane. With names so close to one another, many are wondering if Alexandra and Anna are long lost sibling or if the characters are really one and the same. Of course the characters could be totally unrelated allowing the writers to have a good chuckle as the rumors fly. If Alexandra and Anna really are the same person, the AMC writers will be left with the difficult task of explaining why Anna Devane is not dead. The character passed away on General Hospital. Of course, they've done it before, most recently with Mike Roy.
>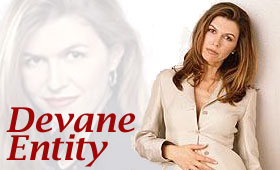 ABC is enjoying the hype surrounding Hughes' return to daytime. An ABC statement promises that Hughes will bring with her a "deadly secret as well as an ill-fated connection to one of AMC's core characters." The early guesses Dimitri Marick tied to Hughes. Michael Nader, who plays Dimitri, has already indicated that he will not renew his contract with ABC when it expires later this year. Nader has been with the show for eight years. (See
Later, Nader
in the AMCNews section for additional information)
>
If you aren't a General Hospital viewer, you still may have seen some of Hughes' work. She's appeared on
Blossom
from 1994-1995 and on the defunct Fox drama
Pacific Palisades
in 1997. Hughes first gained attention when she starred in the premiere cast of Andrew Lloyd Weber's musical
Cats
, as the original White Cat.
>
A native of London, Hughes got her first big break in America when Sylvester Stallone cast her as John Travolta's lost interest in the
Staying Alive
.
>
According to the
New York Daily News
, Hughes maintains homes in Los Angeles and London with her husband, photographer Russell Young. The couple will, however, relocate to New York so that Hughes can be near the AMC studios.
>