Former All My Children star Aiden Turner (ex-Aidan Devane) has danced his last rumba -- at least as part of this season's Dancing With the Stars. The model-turned-actor was voted out of the competition last night, which makes him the third celebrity to be eliminated from the celebrity dancing reality series.
In the past round of competition, Dancing With the Stars added a new twist to the competition -- two sets of scores per round. In place of one score for overall excellence, each of the three judges offered scores for technique and performance on a scale of 1 to 10.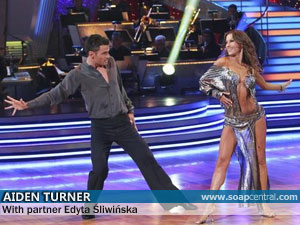 With scores of 15 for technique and 18 for performance, Turner finished second from the bottom after the judges' votes. On his Twitter page, Turner voiced his displeasure with his low marks.
"Dance went well, I thought, but [the] judges robbed me," Turner tweeted.
After being voted off, Turner became emotional,
"Anything you put your mind to, you can really achieve something great. And nothing great is achieved without hard work," Turner offered.
During his time with the competition, Turner performed four dances -- the Cha-Cha-Cha, Fox Trot, Quickstep, and Rumba. Turner finished with an average per-round score of 17.4 out of 30.
Photo Credit: Adam Larkey/ABC