Kinworthy out as AMC recasts Josh
By
Dan J Kroll

Posted Monday, August 29, 2005 12:20:42 AM
Newcomer Scott Kinworthy (Josh Madden) is out after less than three months with All My Children. His on-screen alter ego, however, will live on; the role is being recast and a new Josh is already in place.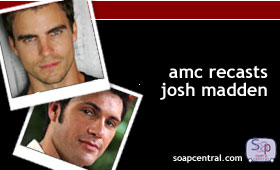 Officially the show cites "storyline reasons" as the driving force behind Kinworthy's exit. Typically, a show will issue that statement when it plans to drastically alter a storyline. The rationale is that viewers will be more likely to accept abnormal behavior from a character if there is a new performer in the role.
Internet chatter hints that a bombshell of a storyline may be brewing for Josh in the weeks ahead.
Tapped to take over the role of Josh is another newcomer to daytime television: Colin Egglesfield. Egglesfield joines the All My Children cast with three feature films under his belt and a series of guest-starring roles in primetime dramas such as Charmed and Gilmore Girls.
Kinworthy makes his final on-air appearance in September 15. Egglesfield makes his debut the following week, with his debut coming on September 20.




RELATED STORY
Long-time Y&R star also may not have contract renewed.
---
2018 DAYTIME EMMYS: SOAP CENTRAL'S COMPREHENSIVE COVERAGE