According to insiders, Sydney Penny (ex-Julia Santos) is thisclose to signing a deal that would have her return to All My Children later this year.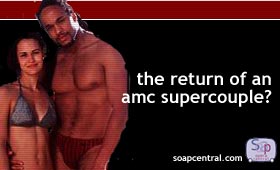 Penny exited All My Children in November 1996 when her character was enrolled in the Witness Protection Program. Julia and on-screen husband Noah Keefer fled to live new lives in California. Julia returned briefly to Pine Valley in 1997 to attend the memorial service for her then-presumed dead sister, Maria.
In her time away from All My Children, Penny appeared on the now-defunct NBC soap Sunset Beach as well as Beverly Hills, 90210. Penny has also had roles in several feature films, including 1998's The Pawn.
If Penny does return to the show, her former on-screen husband Keith Hamilton Cobb (ex-Noah Keefer) is not likely to be tagging along. Cobb, whose named was bandied about earlier this year for a role as Wesley on CBS's The Young and the Restless, is currently working on the syndicated series Andromeda. His work schedule on the science-fiction series, which tapes in Canada, makes Cobb an unlikely candidate to return.
It is unclear at this time if show execs would recast the role of Noah or if Julia would return to town without her husband by her side.
An ABC spokesperson had "no comment."