All My Children has put out a casting call for two characters with very familiar names: Tim and Amanda. AMC insiders confirm that Tim and Amanda are, in fact, two members of the Dillon clan.
According to the casting call, Tim is about 18 to 19 years of age. Amanda, however, will be of driving age, 16 or 17 - a vast difference from the pre-teen Amanda last seen just two years ago. Because of the age difference, Alexis Manta (ex-
Amanda Dillon
) will not be reprising her role. For those keeping track, in "real world" time, Amanda would be about ten-years-old.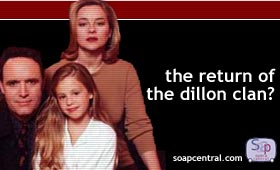 It is unclear if Tommy J. Michaels (ex-
Tim Dillon
), who played Tim from 1990 to 1999, was asked to return to AMC or if the actor had even wanted to return to the show.
Now reports are circulating that Trevor and Janet Dillon might also be on their way back to Pine Valley.
However,
soap
central
.com
has learned that AMC fans will not likely see
Robin Mattson
(ex-
Janet Dillon
) or
James Kiberd
(ex-
Trevor Dillon
) return to Pine Valley. Mattson is currently active in an e-commerce venture on the Internet. A source close to Mattson reveals that her day-to-day duties with the web site would not prevent her from returning to AMC. Kiberd is involved in a series of plays throughout the summer. [For more information on James Kiberd's on-stage appearances,
click here
.]
It is not impossible for the senior Dillons to make a return to the show. When last seen in 2000, Kiberd's Trevor fled Pine Valley after being accused of murder. When he was cleared of those charges, an off-screen Trevor sent word to Pine Valley that he wanted his family to relocate to Colorado with him.
RELATED STORY: HUBBARD FAMILY COULD ALSO RETURN