Diego Guittierez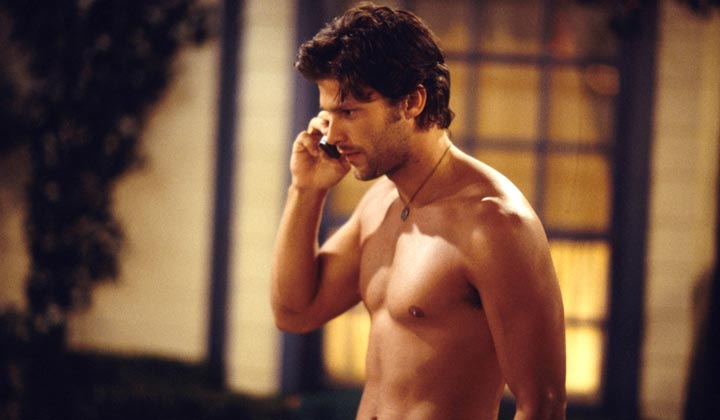 Former waiter at Crimson Lights Coffeehouse
Former stable hand at Newman Ranch
Unknown
Single
Unknown
Adela Guittierez (mother)
Vicente Guittierez (father)
Dante Guittierez (brother)
Raul Guittierez (brother)
Several unidentified brothers and sisters.
Unknown
Kara Blast
None known
Diego was a drifter who left home and broke his mother's heart years earlier. His was a large poor family of Cuban descent, his father being a factory worker at Mortenson-Drucker. He returned to Genoa City after hearing about the problems that his younger brother, Raul, was having. He showed concern for his brother's struggle with diabetes and newfound lack of attention to detail and loss of interest in college and good grades. His concerns were met with rage in some instances, as Raul told him that he had no right to judge him or tell him what to do. A woman named Kara Blast meant a lot to him before he came back home, but she broke off the relationship. Larry Warton helped him find a cheap apartment, and Nick and Sharon Newman gave him a job at the coffeehouse and also working with the horses at the Newman Ranch.
Diego seemed to be in the right place at the right time whenever Sharon needed a friend. Time after time, when Sharon was in crisis, Diego was there for her, but his intentions were always those of a friend. Then Sharon lost her baby and blamed Nick, so they separated. Just as there appeared to be hope that they would get back together, Sharon caught Nick kissing another woman in the office at the coffee house and turned to Diego, but he rebuffed her several times. But one time too many, and Diego succumbed and made love with a needy Sharon, who was jumping to conclusions that Nick was having an affair with Grace, who she happened to see passing through town. Instead, Nick whisked Sharon away on a second honeymoon, sure that once they were alone they would reconcile. Reconcile they did, but the guilty Sharon had a hard time enjoying herself.
Victoria, suspicious of the relationship between Diego and Sharon, feigned interest in Diego. But she fell for him in spite of her intentions, and they began an affair. One day, just as they were declaring their love, Sharon was admitting her dalliance with Diego to Nick. Nick took it very badly, beat up Diego, then called up Grace and let her sooth his bruised ego in bed. Victoria found out and broke up with Diego. All the Newmans found out and took sides with Nick or Sharon as they told the kids they were separating once again. Diego explained to all that would listen that it was only one time, it meant nothing, and he was not the aggressor. No one believed him but Victoria, who forgave him.
Unfortunately this meant she had to go against her family's wishes to be with the man she loved. She moved out of the ranch, and she and Diego were temporarily living together in a hotel. Nick disowned her, Victor tried to pay off Diego while comforting Sharon, and Nikki tried to get everyone to give them some space when she wasn't berating Sharon for her foolishness. But two thugs beat up Diego, took the $100,000 Victor gave him, and Diego was later found and taken to the hospital as a John Doe. Victoria tracked him down. Although things didn't look good, as Diego was in serious condition, he recovered. Victoria was looking forward to buying a condo together, but Diego was more interested in revenge against the guys who beat him up. He arranged, with the help of Larry, to coerce Victor into setting them up. Although the plot worked for the most part, and the thugs were arrested, Victoria didn't like the vengeful man Diego had become and broke it off. Diego hit the road again for parts unknown.

Post a Comment

Share on Facebook

Tweet this

Submit Feedback