Emmy winner Eden Riegel (ex-Bianca Montgomery, All My Children) is headed back to daytime television -- but not to All My Children. In a surprising casting coup, The Young and the Restless has lured away the popular actress with an offer to take over an existing role on the CBS soap.
A network spokesperson has confirmed that Riegel has been cast in the role of Heather Stevens. She will replace Vail Bloom, who originated the role in June 2007. Bloom, an Outstanding Younger Actress nominee at the 2008 Daytime Emmys, was dropped to recurring status last year. The status change came after the actress was dogged for months by rumors that she was being let go.
Though it was initially reported that the news of the Heather recast leaked before Bloom had been informed that her time with the CBS soap was coming to an end, Bloom's agent states otherwise.
"Vail left the show on her own. She was not fired or let go. She was a non-contract player on Y&R and it was ultimately her choice to leave," the rep told Soap Opera Digest. "She has had to turn down outside projects presented to her in the past and now wants to be able to pursue other opportunities. There are no ill feelings on Vail's side whatsoever. Vail really enjoyed her time on Y&R. Playing Heather was an incredible experience and she felt very honored to be on the No. 1 soap."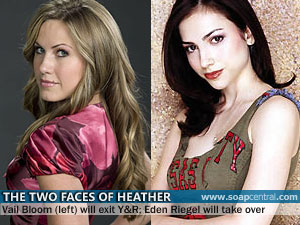 Riegel appeared as a contract player on All My Children from July 2000 through February 2005. In 2005, Riegel won a Daytime Emmy as Outstanding Younger Actress. Over the course of the following four years, Riegel made numerous guest appearances on All My Children. There were three big reasons Riegel did not return to the show full-time: location, location, location. All My Children taped in New York and Riegel lived in California. When ABC announced in August 2009 that production of All My Children would be moving to Los Angeles, Riegel's return to AMC seemed inevitable. But it was not to be. As recently as last fall, Riegel was in talks to return to All My Children -- but the talks fell through.
"Hey guys, not-great news to share," Riegel posted on her Twitter page in November. "Looks like it isn't going to work out for me going back to AMC when they move out to LA. I'm very sad..."
Still, Riegel did make a one-day appearance for All My Children's 40th anniversary in January.
On The Young and the Restless, Riegel will reunite with her former on-screen love interest, Elizabeth Hendrickson (Chloe Mitchell; ex-Maggie/Frankie Stone, AMC). Together, Riegel and Hendrickson's All My Children characters, Bianca and Maggie, developed a huge following. The actresses, who are also good friends in real life, also worked together on the Emmy-nominated web series, Imaginary Bitches.
Riegel begins taping the week of March 15. Her first airdate is April 20.
RELATED STORY: Did Riegel walk away from Bianca -- and AMC planning Bianca recast