When Beth Ehlers (Harley Cooper) exited Guiding Light last month after 20 years with the CBS soap, many fans were left wondering what the future would hold for the character. Would Harley simply vanish without a trace or would the show do the seemingly unthinkable and recast the role?
Officially, a Guiding Light spokesperson states that the show hasn't made a decision about what to do with Harley now that Ehlers has left and there are "no immediate plans to recast Harley." Behind-the-scenes, however, there are whispers that the show is actively looking for just the right high-profile actress to take over the part.
As with any casting rumors, there is already at least one name attached to the story: two-time Daytime Emmy winner Cady McClain (ex-Dixie Martin, All My Children; ex-Rosanna Cabot, As the World Turns).
In a July 7th entry on her official web site, McClain addressed the situation with a wry posting.
"I have heard a lot of rumors, too, [by the way], but I am sorry to tell you that I have absolutely nothing to tell you!" McClain wrote. "It is lovely to be considered for any part, of course."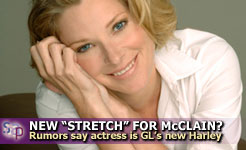 McClain coyly declined to clarify exactly what rumor she was referring to. In addition to the GL chatter, All My Children fans are also whispering that McClain might return as a back-from-the-dead Dixie. By coincidence, Ehlers left her role as Harley on Guiding Light to take on a role on AMC.
McClain goes on to post, "I know it is odd when actors switch shows, but from my own experience, it can be a good stretch for the actor to play a new part, and ultimately good for the show."
In a recently published interview, Ehlers admits that she had brought up McClain's name as a possible new Harley during talks with show execs - even though Ehlers had never met McClain.
McClain's addition to Guiding Light would be the actress' second stint on a Procter & Gamble produced soap. She appeared on As the World Turns for approximately six years.
Whether or not she does make the move to Springfield, McClain urges fans to support all daytime drama series "because they are a classic form of entertainment and it would be a shame to lose any of them."
Off-screen, McClain continues to tour various venues around New York City to promote her album, Blue Glitter Fish. For ticketing information, check out her official web site at cadymcclain.com.