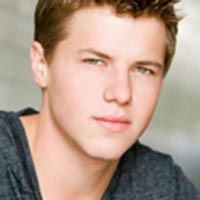 Kevin G. Schmidt
Schmidt, originally from Andover, Kansas, began acting at a very young age. He made numerous guest appearances on shows such as
Monk
,
JAG
,
Curb Your Enthusiasm
,
Grounded For Life
, and
Taken
. He also appeared in the films
Catch That Kid
,
The Butterfly Effect
with Ashton Kutcher, and
Cheaper By the Dozen
films, which helped him earn a Young Artist Award in 2006.
In 2007, Schmidt took time to work on his physical appearance in order to evolve from a
chubby
character actor into a
leading man
. He can be seen in his first leading role in the independent romantic/thriller
Resurrection Mary
which was release at the end of August 2008. Schmidt also appeared in a Disney Channel original movie,
Princess Protection Program
.
Schmidt is currently working to expand his directorial and screenplay writing outreach with productions entitled:
Yeller: Lost At Home
, and
Chase Doe
. He produced and starred in a webseries called
Poor Paul
, which launched on YouTube and MySpace. Schmidt recently made his directorial debut in
The Alyson Stoner Project
, a healthy lifestyle music video. Unnatural History
Henry Griffin
2010
Princess Protection Program
Bull
2009
The Young and the Restless
Noah Newman
August 12, 2008
to
February 8, 2010
;
April 14, 2011
to Present
CSI: NY
Tyler Bennet
2008
Untitled Dave Caplan Pilot
Daniel
2008
Without a Trace
Mason Bynum
2007
Numb3rs
Steven Wexford
2007
Monk
Leo
2005
Clubhouse
Brad Saminski
2004-2005
The Guardian
Ted Huberty
2004
The Mullets
2003
JAG
Billy
2003
The Pitts
Kevin
2003
The District
Gerald
2002
Taken
Child
2002
The King of Queens
Skitch
2002
Providence
Kid at Dance
2002
Judging Amy
Lewis
2001
Curb Your Enthusiasm
Thor Kid #2
2001
The Downer Channel
Timmy
2001
Grounded for Life
Kyle
2001
Alvin and the Chipmunks: The Squeakquel
Ryan
2009
The Alyson Stoner Project
2009
Resurrection Mary
Jeff Pryce
2007
Cheaper by the Dozen 2
Henry Baker
2005
Catch That Kid
Skip
2004
The Butterfly Effect
Lenny at 13
2004
Cheaper by the Dozen
Henry Baker
2003
Mind Rage
Young Michael Reid
2000 Daytime Emmys: Pre-Nomination, Outstanding Younger Actor (2009, 2010, 2012; for The Young and the Restless)
Young Artist Awards Winner, Best Young Ensemble in a Feature Film (2004; for
Cheaper by the Dozen
)
Young Artist Awards Nomination, Best Performance in a Feature Film - Young Ensemble Cast (2005; for
Cheaper by the Dozen 2
)
Young Artist Awards Nomination, Best Performance in a TV Comedy Series - Guest Starring Young Actor (2003; for
Grounded for Life
) PLACE OF BIRTH: Andover, Kansas
DATE OF BIRTH: August 16, 1988
News Archive
: Schmidt not returning, is Y&R preparing to recast Noah? [Jul 20, 2010]
News Archive
: Ex-GH star Drew Garrett rumored up for Noah Newman. [Jul 22, 2010]
News Archive
: Slightly "aged" Noah returning to town. [Aug 12, 2011]
News Archive
: Y&R un-recasts Noah as Schmidt returns. [Mar 15, 2011]
News Archive
: Schmidt posts message hinting of a Noah recast. [Aug 15, 2012]