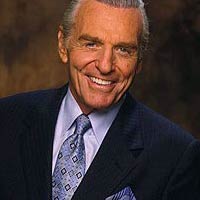 Gerald "Jerry Douglas" Rubenstein
Alistair Wallingford
March 18, 2008 to June 11, 2008
Born and raised in Chelsea, Massachusetts, Jerry Douglas joined the cast of The Young and the Restless in March 1982.
Douglas attended Brandeis University on a football scholarship, where he graduated with a BS degree in Economics.
Upon graduating from college, Douglas studied acting -- and it paid off. Douglas has appeared in over 100 television series in his career. On the short list of shows on which he has appeared are Hill Street Blues, Melrose Place, The Rockford Files and Walton's Mountain.
Douglas donates time to the Salvation Army and Variety Clubs. In his spare time he enjoys golf and reading. The Christmas Wish
1998
The Young and the Restless
John Abbott
March 1982 to
August 18, 2006
[contract];
September 1, 2006
to Present [recurring]
Crash
1978
Cover Girls
Fritz Porter
1977
Brinks: The Great Robbery
Dennis Fisher
1976
The Dead Don't Die
Ralph Drake
1974
The Stranger
Steve Perry
1973
Hunter
General Rollins
1973
Travis Logan, D.A.
Officer Francis Erwin
1970
The Godson
Freddie Gilen
1998
JFK
Board Room Man
1991
Looker
Laxative Spokesman
1981
Mommie Dearest
Radio Interviewer
1981
Good Guys Wear Black
Joe Walker
1978
Avalanche
Phil Prentiss
1978
Gunn
Corwin
1967
Black Zoo
Lab Technician
1963
Blast of Silence
Gangster
1961 PLACE OF BIRTH: Chelsea, Massachusetts
DATE OF BIRTH: November 12, 1932
HEIGHT: 6'1"
HAIR: Light Brown
EYES: Brown
MARITAL STATUS: Married, Kymberly Bankier [Apr 6, 1985]
News Archive
: 24-year veteran Jerry Douglas is leaving Y&R. [Feb 26, 2006]
News Archive
: Done deal: Douglas will exit Y&R permanently. [Jul 30, 2006]
News Archive
: Deceased character returns to Y&R [Mar 19, 2015]
News Archive
: Jerry Douglas returns to Y&R for September storyline [Aug 22, 2016]