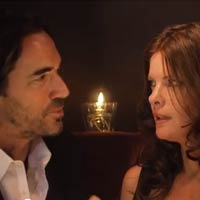 The Stafford Project: Episode Seven "Reality Adjustment"
by
Dan J Kroll

Posted Monday, October 28, 2013 10:25:54 PM
The seventh installment of Michelle Stafford's (Phyllis Summers) aptly titled The Stafford Project is now online.
The episode features a special appearance by Brandon Beemer (ex-Shawn Douglas Brady, Days of our Lives; ex-Owen Knight, The Bold and the Beautiful).
The Stafford Project pokes fun at reality television, Hollywood, and even Stafford's own life. The series is available for free on-demand viewing on YouTube.
You can watch the latest episode below. Click here to view Episode One, Episode Four, Episode Five, or Episode Six.


2018 DAYTIME EMMYS: RED CARPET INTERVIEWS