When a soap opera needs an actor or actress for a role, the show issues a casting call. The mysterious "other woman" lurking in the shadows? The police officer that arrests the bad guy? More than likely, the actors playing these roles were found via a casting call -- a help wanted ad, if you will, that shows post when they are looking for performers to fit into a certain role.
Casting calls are typically innocuous, and not every casting call materializes into an on-air role. Every so often, though, a casting call goes out that raises some eyebrows. Such is the case with a recent casting notice released by The Young and the Restless for the contract role of a character being called "Simone."
Simone looks to be a character featured prominently in upcoming storyline. In fact, the show states that Simone will be a "fun, breakout role."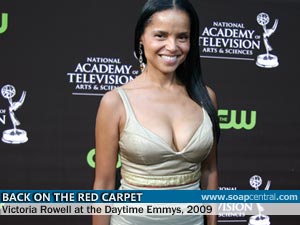 Here are a few more details of the planned role: She should be an ample-figured African-American female in her mid-30s. She will be sharp, sassy and bold, street-smart and unafraid of confrontation. She wears her emotions on her sleeve and does not suffer fools gladly. She dresses like she is going to a ball. She loves herself and knows she is "all that."
Some fans are speculating that the role could be a secret recast for the role of Drucilla Winters, played by Victoria Rowell for more than 15 years. Once thought of as unthinkable, recasting a high-profile role is no longer off-limits for Y&R. Last year, the show tapped former sitcom star Darius McCrary to take over the role of Malcolm Winters, a role synonmous with its previous portrayor, Shemar Moore. Others wonder if the show is trying to come up with a new character to attempt to fill the void left by Rowell's departure in 2007. It wouldn't be the top-rated soap's first attempt at a Dru substitute. In 2008, The Young and the Restless hired Eva Marcille for then-newly created role of Tyra Hamilton. The character didn't catch on with the majority of viewers, and Tyra was written out last year.
The casting process is already underway, and a decision is due soon; Simone appears in scenes that will be taped in late-April.
The role is contract and will start around late-April.