Last month, The Young and the Restless announced that it had reached an agreement with soap vet Stephen Nichols to take over the role of Tucker McCall. That meant that William Russ, who'd joined the show little more than a month earlier, was out. It wasn't that Russ wasn't working out, according the show.
"William Russ is a talented actor and we enjoyed working with him," co-executive producer and head writer Maria Arena Bell said in a statement. "However, we decided to take the character in another direction."
In an interview with Michael Fairman for his On Soaps web site, Nichols said that he was "happy, excited, and terrified all at the same time" upon getting a call from Bell about possibly joining the show. After learning that he'd be working with some of Y&R's power players, the decision to accept the offer was made a whole lot easier.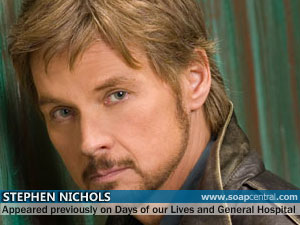 "I think what makes it exciting is that I am connected to so much history on the show," Nichols explained. "I am the son of the matriarch on the show. And that is very exciting, number one, because it's always good to start on a new show with a rich history, and you are not some guy from out of nowhere. There was a lot electricity [...] with Eric [Braeden, Victor Newman] and [...] Peter Bergman (Jack Abbott), and all the young guys I have been working with, Daniel Goddard (Cane Ashby) and Michael Muhney (Adam Wilson), and especially Jess Walton (Jill Abbott). She is amazing! We had a couple of scenes last week where right afterwards I said, 'Oh, My God. It's just amazing working with you!'"
Though he is well-known for two different daytime roles -- Days of our Lives's Steven "Patch" Johnson and General Hospital's Stefan Cassadine -- Nichols' role on The Young and Restless positioned him to do something he had never done in his 25 years in daytime: assuming a role from another actor.
"There is that weirdly embarrassing thing," Nichols laughs. "In fact, I walk out of my bedroom in a robe, and Jill is already out of bed looking out the window. I walk out to see her, and as I am walking out to see her, the director asked me to stop and take a pause at the door before I continued, and that is where they put a Chiron emblazed across my robe or my chest, 'I am Stephen Nichols and I am playing the part of Tucker McCall.' It's embarrassing, but fun. It never happened to me before."
In actuality, Nichols' first appearance didn't feature sirens, bells, or flashing graphics. When the actor first appeared, a voiceover announced, "The role of Tucker McCall is now being played by Stephen Nichols."