The daytime baby boom continues as the stork has paid a visit to another star of The Young and the Restless. Michelle Stafford (Phyllis Summers) is a brand new mom. The Emmy-winning actress welcomed Natalia Scout Lee Stafford on Monday, December 21.
People magazine reports that Stafford's little one, born via surrogate, weighed in at 8 lbs., 3 oz.
"She is healthy, gorgeous, and amazing," a rep for Stafford said of the newborn. "Michelle is out of her mind happy."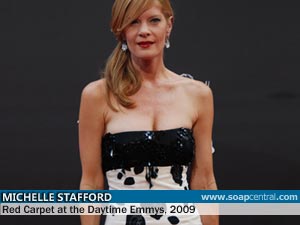 In an interview with People this summer, Stafford revealed that she has tried previously to have a baby via artificial insemination and in vitro fertilization, and that she also explored adoption. Four surgeries and three egg retrievals later, she finally arrived at the surrogate option.
"After a three-year journey through hell, I'm elated, ecstatic and feel ultimately lucky to be able to announce I'm expecting my own child via surrogate in December," Stafford says in a statement.
Last week, reel- and real-life couple Thad Luckinbill (J.T. Hellstrom) and Amelia Heinle (Victoria Newman) welcomed a daughter. For more on their baby story, click here.