Great, Scott! Here we go again.
If you thought you'd heard the last of contract drama at The Young and the Restless -- at least for a little while -- sadly, you were mistaken. No, another actor hasn't decided to take a hard line on a proposed salary cut. It's a reprisal of drama seen earlier this year.


Multiple sources are reporting that Melody Thomas Scott (Nikki Newman) is once again in heated discussions with executives at The Young and the Restless over her contract with the show. Perhaps it would be better said that she is in talks over not having a contract with the show.
It appears that Scott's previous contract flap didn't resolve itself the way that everyone had assumed -- with Scott and executives at Sony, the production company responsible for distributing The Young and the Restless, reaching a mutual agreement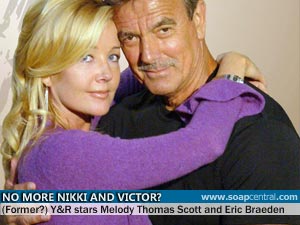 "Reportedly, Scott was allowed to save face in the press by making it seem like she re-signed on her own terms during her last round of talks, but chatter is Scott was only given a short term deal to coincide with the end of Eric Braeden's [Victor Newman] contract cycle," Daytime Confidential reports.
During Scott's contract negotiations earlier this year, the actress was asked to drop to recurring status. While typically viewed as a death knell for a soap star, CBS has had several big-name stars appear as non-contract players for years -- and they've appeared in major story, often being seen more on-screen that contract performers.
As previously reported by Soap Central, both Eric Braeden and Melody Thomas Scott will see their characters written out on November 2, when Nikki and Victor travel to a European medical facility. Though it had been widely reported that Scott would return to the show a few weeks later, Nikki's return has not been written into the show's scripts.


Could it be that Sony is attempting to reproduce the success it had earlier this year when it dumped two of Days of our Lives' biggest stars, Deidre Hall (Marlena Brady) and Drake Hogestyn (John Black), from the NBC soap? Whereas many angry fans expected the show to limp on and eventually face cancellation without the two stars, Days of our Lives' ratings have actually improved since Hall and Hogestyn last aired in January. Moreover, the show's costs have also been reduced after shedding two large salaries.
A spokesperson for The Young and the Restless did not respond to requests for a statement.