William Russ has landed the much-talked-about role of "Tucker" on The Young and the Restless. The show would eventually go on to deny it, the casting call for the role had many wondering if Tucker was really a covert attempt to recast the role of Victor Newman.
Though his career spans more than 30 years, Russ may forever be best-known for his work on the former family-friendly sitcom, Boy Meets World. Russ played Alan Matthews, the main character's father, from 1993 through 2000.
In addition to his Boy Meets World role, Russ has made numerous appearances in both film and television. He's also had the luxury of playing comedic and dramatic roles. Last year, Russ appeared as an assistant district attorney on ABC's Boston Legal. In the upcoming months, fans can expect to see Russ in no fewer than three feature films. Green Guys, 1,001 Ways to Enjoy the Missionary Position, and A Fork in the Road are all currently in post-production.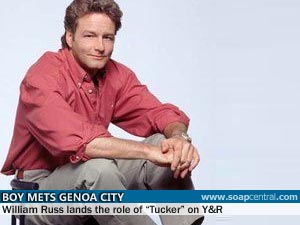 Soap viewers may remember Russ from his work as Burt McGowan on NBC's long-running soap, Another World. That 1978 role is Russ's only other foray into the world of daytime drama.
Officially, The Young and the Restless won't confirm that Russ has joined the show. Though Soap Central first heard rumblings of Russ's hiring last week, One Life to Live's Emmy-nominated Ilene Kristen (Roxy Balsom) confirmed Russ's hiring on the BlogTalkRadio show, Brandon's Buzz.
As previously reported, the casting call for Tucker set off a firestorm of controversy. The search for a big-name actor to take on the role first came to light as word of Eric Braeden's (Victor Newman) contract negotiation stalemate became public. With the show looking for a 40-to-50-something billionaire with a dark side, many speculated that the show might be attempting to recast Victor. CBS issued a statement explaining that Tucker was a new character, not a veiled attempt at a recast. Braeden, as you might imagine, wasn't amused.
"I just blew my top," Braeden told Soap Opera Digest of the casting call. "I brought over the producer and I said if they want to [mess] with me and intimidate me by issuing the rumor that they're trying to recast my part, go for it. I react to intimidation very badly."
For the record, there is nearly a ten-year age difference between Braeden and Russ, so the network's assertion that "Tucker" isn't a Victor recast in sheep's clothing certainly seems valid. However, with Braeden saying that he's washed his hands of Y&R, the show could certainly revisit the recast decision at a later time.
Braeden will exit The Young and the Restless on November 2. A first airdate for Russ has not yet been announced, but fans should expect to see the actor sometime in late November.