Fans of The Young and the Restless have been atwitter the past few days over rumors that Victoria Rowell (Drucilla Winters) could soon be returning to the show. While no one has signed on the dotted line yet, this is not the first time that the Image Award-winning actress has said that she'd be open to returning to Genoa City.
Rowell exited The Young and the Restless in 2007 after having asked to be let out of her contract with the top-rated soap. Her exit was mired in controversy from all sides. Rowell expressed her frustration with the show's direction under then-head writer and executive producer, Lynn Marie Latham. Being passed over by the in-house vote for a Daytime Emmy pre-nomination was seemingly the last straw for Rowell. Shortly thereafter, Drucilla was seen falling from a cliff and was presumed dead. Rowell exited her iconic role and blasted the daytime community for being "racist."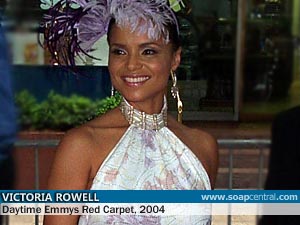 "Once upon a time, we had about eight front burner Black actors -- recurring and contract -- albeit mixed race because that's what daytime could only handle at the moment. And I'm of mixed race, and there's nothing wrong with that, but Sony/CBS refuses to admit that Y&R's primary audience is black. And now the show has what? Two black actors -- which adds up to one because they are mixed!" Rowell sounded off in an interview with TVGuide Canada. "Listen, daytime hires actors of mixed race because the network thinks that will make viewers comfortable with that amount of blackness -- let's put that all on the table, shall we? Why is this the case? To me, it's quite anemic. The number-one watched show in daytime is predominantly watched by African-American people -- and they know it, believe you me! There is no way of getting around that. They are getting away with it -- Sony, to be specific -- mainly because their heads are buried in the sand. Sony and CBS know their [older] black audience don't own or use computers and therefore are not counted in terms of measurement when it comes to opinion or commentary online. Just look at the soap magazines, the top five actors are all white. It's a no-brainer: we depend on our black, predominant audience to watch our show and make it number one -- so they can sell ad space to Pine Sol and XYZ -- but we're not going to support that population of audience, tell their stories, cast accurately, recognize us on the Emmy ballot? To them blacks, don't count."
As controversial as Drucilla's exit was with fans, there was also behind-the-scenes drama. In a fiery interview with Daytime Confidential, Rowell confirmed that she and co-star Michelle Stafford (Phyllis Abbott) had gotten into an off-screen feud during the taping of her final Y&R scenes.
"Michelle thought it would be funny not to tell me that she was going to spit on my face during a scene," Rowell recalled. "When an actor makes that kind of vile decision, in my opinion that can only be perceived as a form of premeditated humiliation."
Stafford is said to have subsequently apologized for the incident.
Upon the removal of Latham as Y&R's head honcho in February 2008, Rowell expressed her willingness to consider returning to the show. Now that her good friend, Maria Arena Bell, is helming Y&R, it would seem that the stars are aligned for Drucilla fans.
"We have high respect for each other," Rowell says of Bell in a new interview with TVGuide Canada. "We both served on the Americans for the Arts advocacy and preservation board, and [...] I enjoyed working with her very much. Like [Y&R creator] Bill Bell, she loves artists. Maria will do what is best for the scenario at hand. She's very adept at kicking things up a notch and kicking things into gear. Maria and I work very well together. We have similar interests above and beyond daytime."
As for whether or not there are active discussions underway, Rowell won't say. She does, however, encourage fans to contact the show if they are interested in seeing her back on their television sets.
"I am inundated with fabulous fans and requests to return to Y&R," Rowell remarks. "The ball is 100% in Y&R's court. Let's play ball."