It may have been one of the best-kept secrets in recent daytime history. Last week, when Thom Bierdz returned to The Young and the Restless, no one expected it -- and the resulting cliffhanger still has fans talking.
News of Bierdz's impending return to The Young and the Restless broke just a few days before his surprise on-screen appearance -- and it was widely believe that the actor had yet to go into the studio to tape any scenes. Obviously, that was not the case.
"We had decided to do this several months ago, and it was so under wraps. I was told not to tell anybody," Bierdz says in an exclusive interview with Advocate.com.
Long-time fans of The Young and the Restless will remember that Bierdz last appeared on the top-rated CBS soap in 2004 - as a ghost. His on-screen alter ego, Phillip Chancellor III, was killed in a drunk-driving accident back in 1989. That would seemingly explain why Bierdz is currently being called "Langley" on the show -- or has Y&R head writer Maria Arena Bell found a way to resurrect Phillip III?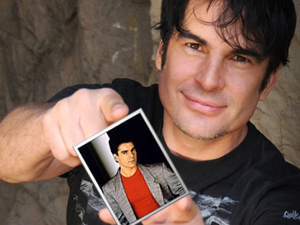 For his part, Bierdz is keeping his lips sealed. He is not, however, silent about what it means to him to be returning home to Genoa City after two decades away.
"It was really cool coming back to the show, since it's almost been exactly 20 years since I was on as a principal player," Bierdz reveals. "That is shocking and amusing to me; the fact that time goes by so quick. So to come back now as an out gay man and to know that I don't have to hide anything about myself is a great feeling."
But things haven't always been easy for the actor. Shortly after Bierdz exited The Young and the Restless in 1989 to pursue a career in film, his younger brother, Troy, a diagnosed paranoid schizophrenic, beat their mother to death with a baseball bat. A decade later, his older brother, Greg, committed suicide. Bierdz chronicles his family tragedies in the best-selling memoir, Forgiving Troy.
In addition to his work as an actor and best-selling author, Bierdz has also found time to write songs and paint.
"I have written 40 songs, 12 scripts, and four novels. I wrote my memoirs. I spent four years making a film. I have got 500 paintings," Bierdz states. "[…] I lie in bed and go, 'OK, what am I going to do today?' I don't get up until I am excited about creating something, and that's what I spend my life doing. Every day I create something. How lucky am I to make a living at that, right?"
For now, acting will probably have to take center stage in Bierdz's menagerie of talents. Bierdz signed a six-month contract with The Young and the Restless. There is also talk that a major never-before-done-on-Y&R storyline is looming in the not-too-distant future.