In a shocking un-casting decision, The Young and the Restless has announced that Raya Meddine (Sabrina Costelana) has been let go. The actress joined the show just six months ago.
What is your reaction to the ouster of Raya Meddine (Sabrina) from Y&R?


I'm shocked. I liked Raya's work and wanted to see more of her on Y&R.
68%
I'm glad. Sabrina was not a favorite of mine and I'm glad to see her exit.
27%
Sabrina served her purpose. She shook things up, but now its time to go.
3%
I'm disappointed, but not surprised since fans didn't seem to like Sabrina.
1%
I have no opinion of the impending exit of Meddine at this time.
0%
Other
0%
Poll Posted: July 17, 2008
Behind the scenes sources suspect the decision to axe Meddine is an impulsive overreaction to declining ratings, and fan displeasure with the unpopular coupling of Sabrina and Victor Newman. On a less nefarious note, however, The Young and the Restless
recently shuffled its writing staff
and new writers traditionally do weed out characters brought in by previous writing regimes. Whatever the reason, Meddine's co-workers are baffled by the sudden about-face in storytelling.
"We were all a little blindsided," a show insider tells Soap Central. "No one tells the same story about why they decided to get rid of Raya."
The original casting call for the role of Sabrina was riddled with mystery. In its description of the character, Y&R called Sabrina "a friend of Victoria, whom she met when she lived in Italy" and expressed a desire to have a "sophisticated and classy" actress in the role.
In February 2008, several weeks after the casting call went out, CBS confirmed that Meddine, the former host of a Lebanese reality show, had been cast as Sabrina.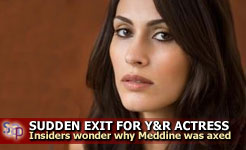 Y&R's new head writing team of Maria Arena Bell and Hogan Sheffer are keeping the specifics of Sabrina's exit under wraps, but spoilers indicate that one or two characters may be sacrificed in the coming weeks in order to provide momentum to carry storylines through the summer and into the fall.
Sabrina's dramatic end will be connected to the previously reported exit of Vincent Irizarry (David Chow), but the two exits will not happen at the same time.
"This will be a big one," a show source, who asked for anonymity, says. "We're going to feel the effects of this for a pretty long time."
Meddine has already taped her final scenes. The show, which has yet to confirm the actress' ouster, has not released a final airdate. Meddine is, however, expected to last air in early August.