When Daniel Romalotti left Genoa City this spring to go on a tour with his rocker dad, it wasn't because Emmy-nominated actor
Michael Graziadei
(
Daniel Romalotti
) wanted out of The Young and the Restless or that the show's writers didn't have story planned for his character. For the last six weeks, Graziadei has been busy on the set of the movie
Into the Blue 2: The Reef
, the sequel to the Jessica Alba film
Into the Blue
.
In the direct-to-video release, Graziadei plays Mace, a sexy bad boy caught up in a dangerous quest to recover lost treasure from a sunken Spanish galleon off the coast of Oahu. The movie required extensive action sequences, with night shoots, car chases, Jet Ski races, and deep sea diving. In fact, Graziadei earned scuba certification this spring in California while preparing for the role. What would an underwater action thrilled be without added guns, torture, and even murder in the script.
"He's definitely not Daniel Romalotti," Graziadei said of his new role. "This guy's got a bite to him, but at the same time, he's extremely lovable."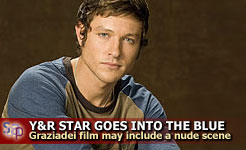 Many daytime stars feel shackled to their soaps because networks are often loathe to lending out their top talent to outside projects. That was not the case with Graziadei's leave from The Young and the Restless.
"The show was more than cooperative and totally cool," he enthuses. "So a big thank you to them."
Fans of the hunky young actor may have something to be thankful for themselves. According to early scenes, some characters were involved in love scenes with partial nudity. Is Graziadei one of them, and do his fans have a little more beefcake to look forward to? Maybe. The movie's producers confirm only that a bedroom set constructed for Graziadei's character.
The Reef also stars Chris Carmack (
The OC
), Laura Vandervoort (
Smallville
), and Audrina Partridge (
The Hills
).
Into the Blue 2 is scheduled for a DVD release in 2010. Meanwhile, Graziadei returns to The Young and the Restless on July 9th.