Despite claims elsewhere that long-time Y&R Jerry Douglas (John Abbott) would soon be returning to the show, Soap Central has learned that the actor has been let go -- permanently.
After nearly two-and-a-half decades with The Young and the Restless, Douglas saw his character seemingly inextricably written into corner earlier this year. Douglas has appeared several times on-screen while his character was locked up for murder, the most recent appearance around Father's Day.
Since Douglas' contract did not technically expire until July, many fans had hoped that there was time for the actor and network execs to work out a deal that would allow the actor to return to the screen. A cryptic statement from the show's head writer seemed to offer a glimmer of hope.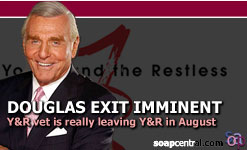 "Jerry has been, and continues to be, an integral part of the Y&R cast," said Lynn Latham in a statement.
Douglas, the second actor to portray the role of John, joined the cast in 1982. He assumed the role from Brett Halsey, who originated the role two years earlier.
A final airdate for Douglas has not yet been made available. It is expected, however, to come sometime in mid-August.