St. John supports music and arts funding
Actor and parent
Kristoff St. John
(
Neil Winters
) spoke to a gathering of hundreds at the 2006 California State PTA convention, held May 10-13th in Anaheim, CA.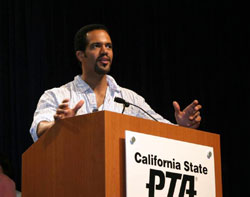 St. John was on hand to inspire members to reach out to the state legislature in support of the Governor's budget proposal of $166 million in block grants for arts and music equipment and supplies for California's public schools.
St. John is an Emmy and multiple NAACP Image Award-winning actor who has played
Neil Winters
on CBS's The Young and the Restless since 1991.
For more information on how to defend school music programs, go to
www.supportmusic.com
.
Photo: Victor G. Sigler
---

RELATED STORY
Jess Walton opens up about why she walked off Y&R. [May 11, 2009]
Share this story with friends, family or the world.

PRINTABLE VERSION
View a printer friendly version of this article
---
SOAPULARITY: WHAT'S TRENDING