By now, soap fans know that when an on-screen character's name starts popping up in conversation on the show, it's a safe assumption that that character will be returning to the show in the near future. And such is the case with Malcolm Winters on The Young and the Restless.
Or at least that was the plan.
When the truth about Lily's paternity was revealed several months back, many fans of The Young and the Restless were amped up about the inevitable showdown between the Winters brothers, Neil and Malcolm. There was just one wrinkle in that building plot: Emmy-winning actor Shemar Moore (ex-Malcolm Winters) was no longer part of the show and being able to talk Moore into returning to daytime television was anything but certain.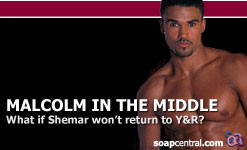 Executives from CBS' daytime division have been in talks with Moore about returning to his daytime roots. For his part, Moore is open to the idea of returning but the actor does have some limitations. Due to his contract with the CBS primetime series, Criminal Minds, Moore would only be able to appear on Y&R during his hiatus. Fortunately, the primetime series is currently on hiatus --- just when Y&R would need him. Moore, however, has stated that he would only want to return for a short period of time and then end all further ties to the CBS soap.
Then there is also that pesky issue of salary.
In an interview with TVGuide.com, Moore's on-screen brother, Kristoff St. John admits that moving forward with the storyline without Moore would be difficult - but not impossible.
"It'll be tricky for the writers, but it doesn't mean we can't continue the story," St. John said. "That's unfortunate because Malcolm is pivotal for the storyline as Lily's real father."
For those fans that are not entirely familiar with Moore's on-again off-again relationship with The Young and the Restless, here's a little background. Moore joined the cast of The Young and the Restless in 1994 after he was spotted in a razor commercial by a Y&R executive. In 2000, he earned a Daytime Emmy for Outstanding Supporting Actor and in a memorable acceptance speech took to the stage while breaking the good news to his mom on his cell phone. He left The Young and the Restless in 2002 to pursue other opportunities, but remained committed to returning to the show that had given him his big break in Hollywood. All the while, however, Moore's agents advised him against returning to daytime television, saying that it would tarnish his image as a burgeoning talent. Against that advice, Moore returned to the show in 2004 and remained in Genoa City until September 2005 before leaving for a role in the primetime series, Criminal Minds.
For complete soapcentral.com news coverage of Moore's many comings and goings, please review the News Archives section of Moore's actor biography in our About the Actor section.
CBS had no comment except to say that "Nothing is going on right now."