Y&R Exec: Lily Is Coming Back
By
Dan J Kroll

Posted Monday, November 14, 2005 10:02:25 PM
It's been about two-and-a-half months since Lily Winters was last seen on The Young and the Restless, but all that is about to change. As previously reported by Soap Central, the top-rated CBS soap has every intention of bringing the character back to Genoa City.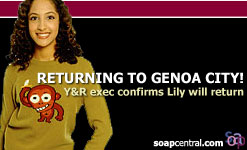 Lily was written off the show in September 2005 when actress Christel Khalil (Lily Winters) announced her plans to leave the show and pursue her dream of appearing in feature films. Khalil left daytime on a high note: she earned a Daytime Emmy nomination for Outstanding Younger Actress in 2004.

"I don't have a mortgage to pay," Khalil noted when explaining her reasons for quitting. "So it's the right time to be unemployed and really go after my dream, which is to be a movie star."

According the Jack Smith, The Young and the Restless' co-executive producer and head writer, there is already a story in place for Lily when the character does return to the canvas, which more than likely will not be until sometime in the New Year. The problem is that the show has yet to find an actress that it feels would be right for the part.

Prior to Khalil, two other actresses held the role of Lily. Vanessa Carson portrayed Lily in 1996 and Brooke Marie Bridges tackled the role from 1997 to 2000. There was a two-year gap before Lily appeared again in 2002, when she was then played by Khalil.



2018 DAYTIME EMMYS: RED CARPET INTERVIEWS