CBS has confirmed that David Shaughnessy, executive producer of The Young and the Restless, has left his position with the show. Beginning in January, former Y&R executive producer Edward Scott will return to the show - but not as executive producer.
Shaughnessy assumed the EP duties from Scott in December 2001 after Scott and CBS execs were unable to come to terms on a new contract. Shortly before his ouster, Scott had celebrated his 25th anniversary with The Young and the Restless.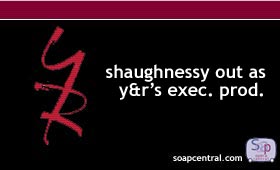 Scott, who is the husband of Melody Thomas Scott (Nicole Newman), will return to the show as supervising producer.
At the time of Scott's exit, William J. Bell, Sr. (Co-Creator, Senior Executive Producer and Executive Story Consultant for The Young and the Restless) noted, "Scott's contributions to Y&R will be sorely missed by the company. I am confident that under [Shaughnessy]'s leadership Y&R will continue to produce compelling and provocative daytime drama."
While Y&R's ratings have slipped - as have the ratings for each of the other soaps - the show has earned critical praise from the media as the best soap on the air. Soap Opera Digest and SOAPnet featured columnist Mimi Torchin have all praised Y&R's storytelling.
Show insiders tell Soap Central that Scott will not be elevated to executive producer. Instead, it is said that CBS will bring in someone else for the top spot.
Scott will return to Y&R on January 5th, after the show's holiday break. A show spokesperson was unavailable to comment on who would handle executive producer responsibilities while a new EP is located.