Last week, Nita had the Y&R Two Scoops stage here at
soap
central
.com
. That means she had the chance to share some thoughts -- holiday thoughts -- about Thanksgiving and the characters on The Young and the Restless. I have a few thanks with regards to those folks, too, but first, some thoughts about this past week.
Adam is a worm! Okay, does that make you feel better. I've been getting a ton of email about Adam and Sharon, but mostly the hatred is directed at Victor's venomous spawn. Most people are dying to see this guy get his comeuppance. Unfortunately, I think it's a long way off. The way I see it, Maria Arena Bell is going to drag this thing out for quite a while. Adam's romance of Sharon will escalate into a full-blown love affair. And that's even more complex because Adam is not without feelings. He's going to fall for Sharon and want to make things right by her.
How on earth is that possible? Sharon can never know about Faith being her child -- not Ashley's -- because that would destroy Adam in her eyes. Mr. Selfish can't do the right thing in the right way. It's going to be in a twisted way. That's the Victor gene at work, by the way. Doing the right thing in a bizarrely twisted form of justice. Victor brought Patty to Genoa City, for instance, with the idea that she would do his bidding by destroying Jack. Victor never saw the ancillary damage she would inflict, or the echo effect. The echo is how all her evil reverberated back on the Newman family
That echo effect is clearly in Adam's actions. He impulsively took Sharon's baby and gave her to Ashley. The bounceback is that now Adam loves Sharon and wants her in his life. He can't ever let her know what he did to her baby. If she knew, she'd want to kill him (I want to kill him!) So that means Adam has to find a way to make it up to her. Is it out of the realm of possibility that Adam will think he can give her another baby -- his baby -- to fill the void in her heart?
EWWWW! I can hear you all now recoiling at the thought, but I would bet that's the direction they're taking this thing. It could be rolled out for years because the Adam-Sharon child would have a lot of the same generic markers as Nick-Sharon's child who is currently in Ashley's arms. Thinking like the grand master Bill Bell, the man who helped created soap operas as a genre, the baby switch could be a long-term story well into the next decade. And it would impede a Sharon-Nick reunion for years. I know, I know, I can hear you all screaming in rage.
I'd like to be that passionate about Daniel and the grand jury, but I'm not. I'm bored. This story is going nowhere fast, don't you think? Heather has become a one-note character: the villainess lawyer. Michael is apparently the only lawyer in Genoa City to handle everybody's cases -- divorce, custody, criminal, SEC issues. The guy shouldn't be wearing Armani suits, he should be in tights and a cape!
The new guy in town, Tucker McCall, has caught my attention because he's connected to J.T. Hmm…what's that all about? Could J.T. be trying to amass a fortune of his own so that he can yank Victoria and Reed out from under the Victor Newman Money Tree? Sounds like that to me.
About Mac, do you think Billy cares one tiny bit that she's getting pregnant because she wants to do something charitable for Lily and Cane? Nah, Billy doesn't understand that kind of giving. He's just freakin' out because Mac's going to be pregnant with another man's child. Billy, you twit, it's not Mac's child. She's just delivering the mail -- or male if it's a boy. Get it?
I wish that Chloe would open her eyes and really see what a great thing she could have with Chance. At least, I think he's great. I'm worried that he may be too good to be true. Really, is anybody that sweet and considerate?
So Jack finally got in on the Chancellor IPO. Talk about a dog with a bone. Jack really needs a hobby, don't you think? And I don't mean chasing Dr. Emily! Maybe he should try gourmet cooking or scrapbooking? The man has talent and he's smart as a whip, but the obsession with Jabot is tiresome. And while we're on the subject of rich people obsessed with business and getting richer, why was Kay so overjoyed that the SEC approved the IPO? She doesn't need the money; does she really need the business? Honey, go take a cruise with Murphy! That's why you got married. Enough with the office and the Wall Street Journal.
As I said earlier, I missed the chance to share some Thanksgiving thoughts, so here goes. The Abbotts can be grateful for many things, like the birth of Faith (even though they don't know the truth about her parentage), but the devastating loss of Colleen overshadows everything. The Chancellors should be thanking the heavens for returning Phillip to them, clearing up the Cane situation, and Mac's return, too. Kay found Murphy, she overcame mini-strokes, and even made peace with Jill.
The Winterses haven't had much to be grateful about, except that Lily is undergoing treatment and has a good chance at surviving. Cancer is a trial and it's nothing to be grateful for, unless you have the kind of cancer that's beatable.
And what about the Newmans? They should have had the biggest turkey of all considering how fortunate they were in the past year. A new heart for Victor after all he'd done? That's a bloody miracle.
Well, that's all for this week. But first, let's check out the mailbag… In fact, I have a thought -- forward them to me. You can reach me here at
soap
central
.com
.
Hey, we had some really good letters in the e-mailbag. Take a look:
I love Y&R however, its time for all of Adam's conniving and backstabbing to be revealed. His character is all over the place. When will he be punished for the torture he inflicted on Ashley and the mayhem he created with the SEC? -- JV


Just let me know when the real writers of Y&R are back from vacation. I'm sure that the current writers are from another planet. Really, Adam's storyline is just to silly, even for a soap. What an insult to the blind people in the world! How bad can this get? And with the holy than thou role Phyllis has, well let's just say my stomach turns every time she appears. So sad to see what once was the top of the line daytime drama fall and hard from grace. Get real Y&R! Please! -- RJ


OMG! "Dumb as a box of hair!" LOL! And, it's true. Whatever happened to Sharon being so strong now and standing on her own? She really is a bubblehead and gets on my nerves. You know what else gets on my nerves? Chance can pick up Delia and carry her around without one word of it hurting his stitches. But, lying on the bed with Chloe touching his arm makes them hurt? -- Colleen
Your comments are always welcomed at
soap
central
.com
, so stay in touch. And keep on reading Two Scoops every week!
Best,
Allison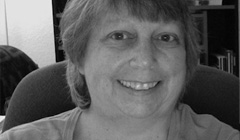 Allison J. Waldman