Soap Central Live, the weekly "all things soap" Internet radio broadcast hosted by Soap Central founder Dan J Kroll, has been renewed for another season. It marks one of the quickest renewals for a program on the Voice America Network.
"When I started Soap Central Live in January, the show was picked up as a 13-week pilot series," Kroll announced on this week's show. "It's pretty similar to the way new television shows begin: they're given 13 weeks to find an audience, and if they do, they're renewed. If they don't, well, then they don't. To me, that meant that I would need to put together the best show possible so that you, the soap fans, would want to tune in every Friday to see what I have in store."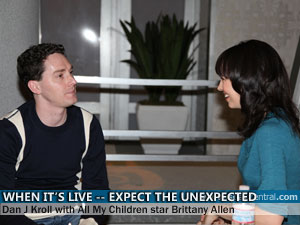 While most new programs take time to build an audience, in just two months, Soap Central Live became the most-listened to broadcast on the Voice America Network. On February 19, listeners lit up the phone lines as General Hospital star Jonathan Jackson dropped by to talk about, among other things, his return to the role of Lucky Spencer. Soap Central Live remains one of the three most-listened-to programs each week.
"VoiceAmerica Talk Radio is proud to announce the extension of Soap Central Live with Dan J. Kroll through 2011," Jon Missall, senior executive producer for VoiceAmerica, said in a statement. "The tremendous response, quality and popularity of this show not only deserves to be on the air for another year, but it should have every soap opera fan tuned in to hear the quality of award-winning guests and the professionalism of Dan Kroll. It's must-listen radio."
Missall said he expects Soap Central Live to be the top-rated program on the VoiceAmerica Variety channel in a short time.
To date, in its first ten shows, Soap Central Live has hosted three Daytime Emmy winners, four Emmy nominees, two syndicated soap opera columnists, and three Soap Central contributors. Listeners never know quite what to expect -- and that's part of the fun. GH's Jackie Zeman offered to dispense sex and romance advice, All My Children star Adam Mayfield reported on traffic conditions near the All My Children studio, and even Dan doesn't know what he'll say next.
Soap Central Live airs live every Friday at 6:00pm Eastern/3:00pm Pacific. Each show is archived and available for later listening or downloading. For more information: Click the Soap Central Live option in the nevigation menu at the top of any page on the site, navigate to soapcentral.com/radio, or visit the Soap Central Live show page at www.voiceamerica.com/voiceamerica/vshow.aspx?sid=1661
Photo: Jim Warren