The strike by the Writers Guild of America has taken a decidedly different turn this week, as its picket line has marched into the world of daytime television and straight to the pages of a popular soap opera magazine.
A war of words has erupted over comments made by Carolyn Hinsey, a columnist in Soap Opera Digest and the editor of Soap Opera Weekly. In her most recent commentary column, It's Only My Opinion, Hinsey took soap writers to task for walking the picket lines.
"Personally, I think soap writers should be exempt from this strike," Hinsey wrote in a column dated December 4th. "Soap ratings have never been lower and no good can come of all these people walking away from their jobs."
While Hinsey's comments could certainly be backed up by numbers - soap ratings are at historical lows -- and viewer fear - if there is no one to write the soaps, the networks could certainly opt to scrap the series and replace them with much cheaper to produce fare - the writers have a much different take on things.
In an open letter to Soap Opera Digest, members of the Writers Guild fired back, asserting that Hinsey's statement was nowhere near accurate.
"Nothing could be further from the truth. For the first time in years, our issues are exactly the same as all writers in every genre -- we want Guild contracts and fair compensation for our work whether it's aired on TV, streamed on the net or downloaded to a cell phone or other device."
As previously reported by Soap Central, soap writers are currently not compensated when their work is offered for sale or viewing in a forum other than television. So, for example, if you log on to CBS.com to watch today's episode of The Young and the Restless, the writers who penned that episode receive no payment for that - even though advertising is sold during that online broadcast.
"Days of our Lives has been available for sale on the net for over a year. Writers' share? Zilch," the WGA letter continues. "And though Televest [the production company of Guiding Light and As the World Turns] entered into an agreement with us, other producers have yet to do the same."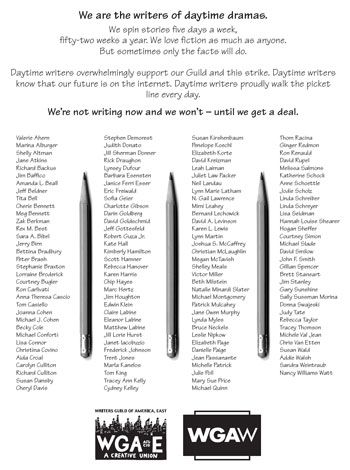 The Writers Guild of America also took issue with NBC for cancelling Passions and creating a new online-only soap, Coastal Dreams. The writer of Coastal Dreams is a non-union scribe, who, the Guild states, earns none of the protections offered by the WGA.
In related news, more than 130 soap opera writers signed their names to an ad that proclaimed their solidarity with the WGA. The ad was placed in Variety as a response to an article the trade publication featured last month claiming that several high-profile soap scribes were crossing the picket lines to continue working on their respective shows. The Young and the Restless was named specifically in the article.
"We spin stories five days a week, fifty-two weeks a year," read a portion of the ad that declared their support for the union. "Daytime writers know that our future is on the Internet."
Among the signees to the ad are Lynn Marie Latham, head writer and executive producer of The Young and Restless; Jean Passanante, head writer of As the World Turns; Barbara Esensten, one half of the head writing team of All My Children; and Hogan Sheffer, head writer for Days of our Lives.



Read the complete letter written by striking WGA members.