Beginning this week, any soap fan with an Internet connection will be able to view several classic soap operas from years gone by. The soaps, produced by soap giant Procter & Gamble Productions, are part of a new service being launched by another giant - AOL.
The new AOL serviced, dubbed AOL Video, is an all-in-one, high-quality entertainment site that will offered access to music videos, news clips, movie trailers and full-length television programs. Among the dozens of "channels" being offered by the service is the P&G-branded "Classic Soaps" channel.
"We are extremely proud of our library of shows, from our current favorites As The World Turns and Guiding Light to classics like Another World, The Edge of Night, Search for Tomorrow, and Texas," Brain Cahill, V.P., Director, Operations and Strategic Initiatives tells Soap Central. "Because we cherish these shows - and know our fans do, too - we are always on the lookout for ways of making them accessible to the widest possible audience. We are thrilled that new media allow us to make our shows available in new ways.
Slated for availability on the new P&G Classic Soaps channel are vintage episodes of Another World, The Edge of Night, Search for Tomorrow and Texas. In addition to archival footage, the channel will also offer what the company calls "original companion content" for the currently-airing soaps, As The World Turns and Guiding Light.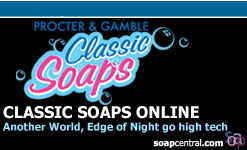 As The World Turns is currently broadcasting "InTurn," an online reality series where contestants are battling it out for a contract role on the CBS series. "InTurn" currently airs on CBS' innertube broadband channel.
"We have no immediate plans to make complete episodes of As The World Turns and Guiding Light available anywhere other than CBS [television]," Cahill continued. "As always, [fans] can enjoy the shows by tuning in to CBS daily."
"AOL has long been a leader in online video and with the new AOL Video portal we have created the best and easiest place online for anyone on the Web to find, watch and share the videos they're looking for," said Kevin Conroy, Executive Vice President of AOL. "From originally produced and licensed programming to branded online video-on-demand channels to user-created videos that people create, upload and share on the Web themselves, AOL Video is truly the first one-stop source that brings the best videos on the Web together in one place and gives consumers more choice. If a video is out there, you'll find it here on AOL Video.com."
AOL Video is primarily composed of partners and child companies of AOL's corporate parent, Time Warner. However, other programs being offered include several of Viacom's properties, such as MTV, Nick at Nite and VH1.
For soap fans, the creation of the P&G Classic Soaps channel will allow fans the opportunity to see programs that have not been available since they ended their run on broadcast television. The Edge of Night, for example, has not aired on network television since 1984. The Search For Tomorrow ended its broadcast run in 1986. Both did enjoy run of several years in rerun on the USA Network in the 1980s. Episodes of the latter years of Another World have been airing on SOAPnet for several years.
Other soap-related content will include the LOGO network's Noah's Arc, a series that takes a look at the lives of four gay African-American men living in Los Angeles.
As part of its commitment to provide comprehensive coverage of all things soap, Soap Central has established message boards for the newly offered classic soaps. The new forums will provide fans with an opportunity to do something that they've never before been able to do: discuss episodes of these classic soaps online with other fans from around the world.



Passions episodes now available for download.