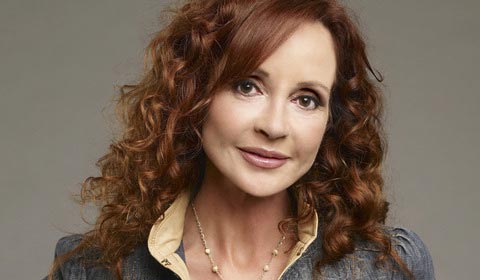 Fourth Annual Jackie Zeman Birthday Bonanza
Posted Thursday, February 07, 2013 8:52:57 PM
SHOW AIRS: March 8, 2013 at 6pm ET/3pm PT. Listen at http://soapcentral.com/scl
It's that time of year again: General Hospital's
Jackie Zeman
(
Barbara Jean "Bobbie" Spencer
) returns to Soap Central Live for her fourth annual on-air birthday bonanza -- and this year there's even more to celebrate because Jackie is returning to General Hospital beginning March 21! Join Jackie and her co-birthday celebrant, host Dan J Kroll. The birthday girl and boy chat about soaps, take calls from listeners, and chat about anything that comes to mind. It's an hour of festive celebration that you won't want to miss.
If you have questions for Jackie, you're invited to call in during the live show. If you cannot be with us live during the March 8 broadcast, you can call our 24/7 caller feedback line at 267.341.7627 and record a brief message, comment, or question. Your message may be played during the live show.
Soap Central Live airs Fridays at 6PM Eastern/3PM Pacific on the
Voice America Talk Radio Network
.
Listener Call-In Line:
866.472.5788
Tweet Your Comments/Questions
@soapcentrallive
:
twitter.com/soapcentrallive
For more information about Soap Central Live or to listen to other episodes:
http://soapcentral.com/radio/index.php
Share this story with friends, family or the world.

PRINTABLE VERSION
View a printer friendly version of this article