NBC's announcement last month that
Kristina Sisco
would be joining the cast of Passions was made with much fanfare - but also with a great deal of mystery. The network declined to announce the name of the character that Sisco would be portraying. Fans now know the reason for NBC's silence: the two-time Emmy nominee was set to assume the role of
Charity Standish
.
Last seen in 2004, Charity was most-recently played by original cast member
Molly Stanton
. This time around, Sisco, a former star of
As the World Turns
, brings Charity back to Harmony for what was originally slated as a 15-episode story arc. It is unclear if the show approached Stanton about
Sisco's short-term status with Passions will allow her to pursue other ventures - but unlike many other daytime stars those pursuits do not involve primetime television. Sisco is currently enrolled in night school at University of Southern California where she hopes to get a master's degree in professional writing.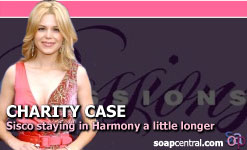 In addition to furthering her education, during her time away from daytime Sisco also found time to film the motion picture,
The Flock.
The film stars Richard Gere and Claire Danes and is expected in theatres in early 2007.
Sisco's return to daytime ends a four-year hiatus for the actress. She appeared previously as
Abigail Williams
on As the World Turns from October 1999 to
October 2002
. She was honored with
Daytime Emmy nominations
in the Outstanding Younger Actress category in 2001 and 2002.
Sisco's short-term stint began on November 15th. Since her debut, the show has announced that they've upped the number of episodes in which Sisco would be appearing. A show spokesperson declined to comment on how much longer viewers can expect to see Sisco's Charity.