Fans used to seeing Passions star McKenzie Westmore (Sheridan Crane) on their televisions are going to have to do some adjusting. Beginning next month, the actress will not be seen in the role that has made her famous to legions of Passions devotees.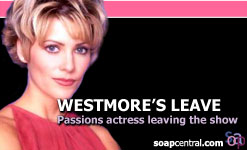 As previously mentioned, Westmore was widely expected to take a short-term maternity leave from the show. Westmore's official leave began in mid-May and, obviously, her final scenes have already been taped. But because of Sheridan's current front burner storyline, the show has been forced to recast the role until Westmore returns from her leave later this year.
Actress Kam Heskin will begin subbing for Westmore on July 5th - which, ironically, is the seventh anniversary of the show's premiere. Heskin is no stranger to NBC Daytime; from 1998 to 1999, Heskin appeared as Caitlin Deschanel on the now-cancelled Sunset Beach. In addition to her daytime experience, Heskin has also guest-starred on primetime shows such as "Angel," "Charmed" and "7th Heaven."
Meanwhile, on Sunday, May 21st, McKenzie and her husband, Seven, welcomed son Maddox Westmore Volpone. The little guy weighed in at 6 lbs., 10 ounces and measured 20 inches. Mother and baby are said to be resting and doing well.
Westmore is an original Passions cast member, having made her first appearance when the show bowed in 1999.
The actress is expected to return to work sometime in early August. While the dates are all still up in the air, Westmore's fans should expect to see her back on-screen in September.