McPartlin Out to Star in Primetime Series
By
Dan J Kroll

Posted Monday, August 09, 2004 5:02:57 PM
Ryan McPartlin (Hank Bennett) has seen his final days on NBC's Passions. According to a show spokesperson, McPartlin will not be seen again on-screen.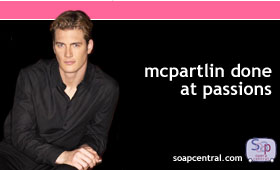 McPartlin joined the cast of Passions in April 2001 as a recast for the role originated by actor Dalton James. At the time, McPartlin was a newcomer to the world of acting, with guest starring roles on a handful of primetime shows.

Earlier this year, McPartlin was taken off contract, but remained with the show in recurring capacity. His appearances have been few and far between.

There's no need to fear for McPartlin's future. The actor has landed a role in the mid-season replacement series "Shacking Up," which will air in January on the WB network. The series also stars former "The Nanny" star Fran Drescher.

"We wish Ryan much success with Shacking Up and all of his future endeavors," a show spokesperson told Soap Opera Central in a statement. It is unclear at this time if the show has plans to recast the role of Hank.




RELATED STORY
Kathleen Noone, Kelli McCarty taken off contract.
---
2018 DAYTIME EMMYS: SOAP CENTRAL'S COMPREHENSIVE COVERAGE