Maria Celeste Arraras, an award-winning journalist known for her work on NBC and the Spanish language channel Telemundo, will be making guest appearances on Passions this fall.
While Arraras will play herself on Passions, the storyline will be written so that Arraras is a longtime friend of Pilar Lopez-Fitzgerald who visits her during a Latin version of the traditional Thanksgiving.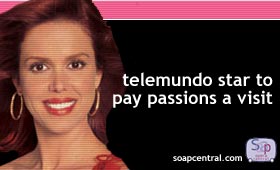 Arraras anchors the one-hour news program "Al Rojo Vivo con Maria Celeste" on Telemundo, Arraras also serves as managing editor for the program. "Al Rojo Vivo" is on-par with programs such as Dateline NBC and 20/20. In New York, the program is the number one in its timeslot - beating all other Spanish
and
English programs.
"It's a very exciting challenge because, even though I play myself. The part involves acting, which is something very different from what I do on camera every day," says Arraras. "I'm also proud to be part of a U.S. Hispanic celebration of Thanksgiving in such a highly rated soap opera."
Arraras will air on Passions on Wednesday, November 27th and Friday, November 29th.
RELATED STORY: A SOAP OPERA CENTRAL SPECIAL REPORT ON HOW SOAPS ARE COURTING LATINO VIEWERS