Longley Said to Be Leaving
By
Dan J Kroll

Posted Monday, July 29, 1999 - 3:32:58 PM
Mitch Longley, who plays Matt Harmon might be leaving Port Charles. It hasn't been confirmed by ABC, but rumors are hinting it is an offical word.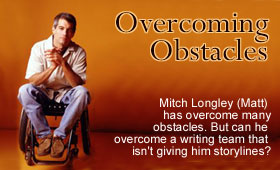 The other Latest rumor is that ABC has confirmed that Longley is leaving the soap, however, that is not true, ABC didn't confirm it-- but that hasn't put a cap to the rumors saying he is leaving the soap. This isn't a surprise. Mitch hasn't appeared on Port Charles since the Nurses' Ball, and his last big storylines was over in late April. Since then people have been wondering if he is ever going to get a storyline.




Stay tuned to Port Charles Online for the latest news information on Mitch. Hopefully, a source will confirm if he is leaving or not. Hopefully, Mitch will stay on Port Charles.