Port Charles, perhaps more than any of the other nine soap operas, has been the buzz of many Internet message boards in recent weeks. Unfortunately, the buzz hasn't been good; most of the talk has been about the "imminent" demise of the six-year-old soap.
While several soap opera publications have previously reported on the renewal of Port Charles by ABC, the official word is that the ratings-challenged soap has not yet been given a green light for another year. This doesn't necessarily spell the end of Port Charles, but at least a few of the show's stars are concerned about the future of the show.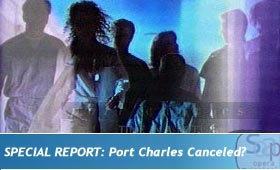 At this year's Daytime Emmy Awards,
Michael Easton
(Caleb Morley) and
Brian Gaskill
(Rafe Kovich) separately encouraged fans to write to ABC to voice their support for Port Charles. Though the show garnered an Outstanding Drama Series nomination at this year's Emmys, it was seen as a major disappointment when Port Charles lost the award to As The World Turns; Port Charles had been selected as a shoo-in by media outlets - including Soap Opera Central - across the country. The show also failed to capitalize on any of its six other Emmy nominations.
ABC Daytime President Brian Frons is said to be one of Port Charles' biggest champions. It was Frons' idea to have Port Charles air a special one-hour episode in the timeslot usually held by One Life to Live. The idea behind the unusual move was to bolster the show's ratings. In recent weeks, Port Charles has seen its ratings drop as low as 1.5, which equates to a little over one-and-a-half million viewers. That total is about one-quarter of the viewing audience of top-rated CBS soap
The Young and the Restless
and places Port Charles dead last among the ten soaps currently airing. Compared to a year ago, Port Charles' ratings are stagnant.
Among the rumors being batted around on the 'net is talk of a change at the top of the show's behind-the-scenes staff. It has been widely rumored that Jill Farren Phelps may take over as the show's executive producer. Phelps would be put in board in a last ditched effort to boost the show's ratings - or, in the event that she is unable to do so, preside over the show's final episodes.
If indeed Port Charles is canceled, it looks highly unlikely that any of the show's characters would be folded back into the
General Hospital
roster. Port Charles started off as a closely-knit spinoff of General Hospital. In recent years it was the decision of the show's executive staff to move away from the kid sibling status and develop a niche of its own for the show. That, of course, led to the experimentation with vampires, angels and other atypical soap opera material.
A Port Charles insider claims that only
Erin Hershey Presley
(Alison Barrington),
Brian Presley
(Jack Ramsey) and
Nolan North
(Chris Ramsey) have been told that they would be moved to General Hospital if the show were to be canceled. Other long-time veterans, like
Jon Robert Lindstrom
(Kevin Collins) and
Lynn Herring
(Lucy Coe) are apparently not of interest back at their one-time home.
In fact, Herring is reportedly in talks with CBS executives to join the cast of The Young and the Restless, at least according to Internet chatter. A spokesperson for The Young and the Restless declined to comment on the rumor. A spokesperson for Port Charles said only that Herring is a member of the Port Charles cast.
Again, a spokesperson for Port Charles declined to offer any comment for this report and those who did speak with Soap Opera Central asked that they not be identified.
---
RELATED INFORMATION
News Archive: Cancellation talks plague PC. [Aug 13, 2001]
More News: Return to the Port Charles Online FrontPage.

SOAPULARITY: WHAT'S TRENDING

MAKING HEADLINES: NEWS FROM AROUND THE SOAPS


We are testing changes to our Comments section. You can still log in to comment with Facebook, but you now have the option to log in with Twitter and Google, or with a Disqus account that is used on other sites with comments sections.