Rumors persist online that actress Joy Bisco (Marissa Leong) will be exiting Port Charles by the end of the show's current book.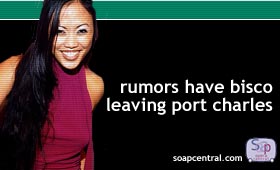 Bisco, who first joined Port Charles last year as wayward angel Casey Leong, returned to the show as a contract player in July 2002. Bisco earned rave reviews from fans and critics alike for her portrayal as feisty Casey. Her new character - Casey's long-lost twin sister - hasn't been greeted with the same level of interest.
A spokesperson for Port Charles declined to comment on the rumors, stating that it is not network policy to comment on rumors.
---
RELATED INFORMATION

The Actor: Learn more about Joy Bisco.
Who's Who: Read a biography of Marisa Leong.
More News: Return to the Port Charles Online FrontPage.