Erin Hershey (Alison Barrington) and Brian Presley (Jack Ramsey) were married on July 27th in a ceremony in Santa Barbara at the Bacara Hotel.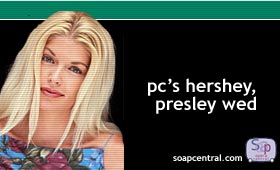 Thad Luckinbill (JT, The Young and the Restless) served as best man and Erin's sister, Jennifer, was the maid of honor.
The ceremony included custom vows - one of which came from the pastor, Kyle! According to a wedding guest, Kyle added, "'I, Brian, promise you, Erin, to every morning buy you a triple grande hazelnut latte from Starbucks.'"
If you're wondering, Brian did repeat the vow.
Hershey has opted to now go by the name Erin Hershey Presley.
---
RELATED INFORMATION
News Archive: Presley makes fairytale proposal to Hershey [Apr 29, 2002]
The Actor: Learn more about Erin Hershey, Brian Presley or other PC stars.
Who's Who: Read a biography of Alison, Jack or other PC residents.
More News: Return to the Port Charles Online FrontPage.