Port Charles has named its latest book "Torn."
Like its predecessors, Torn will feature an accompanying title theme. This time Australian popster Natalie Imbruglia will serve up the main tune with her song of the same title.
While the main plotlines of the latest story arc are being kept under wraps, some pieces of the puzzles are starting to come together.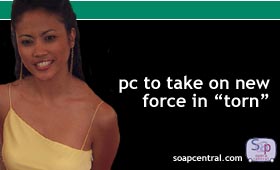 Joy Bisco (ex-Casey) will return to Port Charles in July. This time the actress will not be playing an angel, but rather Casey's real-life twin sister, Marissa. According to a show insider, Marissa will travel to Port Charles to try to uncover why so many bizarre occurrences - vampires, angels and ghosts - are taking place.
Co-head writer Barbara Esensten reveals that there will be two "unusual" love stories in the upcoming book. Extrapolating on the new book's title, the two tales should feature torn emotions for Frank/Karen/Ricky and Alison/Livvie/Rafe.
In a previous interview, Brian Gaskill (Rafe) urged fans not to revolt against Alison and Rafe's ended relationship because "things worthwhile are usually worth waiting for."
Torn, Port Charles' eighth story arc, will debut on July 1st.
---