North Extends PC Stay
By
Dan J Kroll

Posted Sunday, March 24, 2002 10:28:55 PM
Updated Sunday, May 12, 2002 10:24:26 PM
Nolan North (Chris Ramsey) has reportedly signed a new contract with Port Charles. North's talks with network execs were ongoing and the actor's contract was to have expired later this month.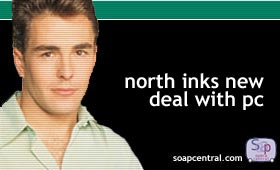 North - along with Lynn Herring (Lucy Coe Collins), Jay Pickett (Frank Scanlon), Jon Lindstrom (Kevin Collins) abd the presumably outgoing Julie Pinson (Eve Lambert) - is one of only four original performers. Many fans are concerned that the actor might be let go due to his ongoing backburner status.
There have been Internet reports that the show is contemplating bringing Donna French back to the show. Long-time viewers may remember that Chris and Donna were an item around the time of Port Charles' debut. A show spokesperson declined comment, stating that it is not show policy to comment on Internet rumors.
---