Ion Overman (Gabriela Garza) has been let go from Port Charles. Gaby will exit with her former on-screen love Joe Scanlon. Though the exit is intended to be final, the door has been left open for a possible return down the road.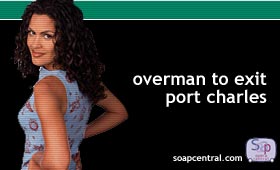 Since joining Port Charles on June 6, 2000, Overman has had little in the way of storyline, prompting some fans to question why the writers introduced the character in the first place.
Gaby was revealed to be Jamal's sister, but the reveal was quickly glossed over and lost in the wake of the more prominent vampire saga in the Tainted Loved storyarc. Among Gaby's highlights is striptease she performed during last year's Nurses Ball.
Overman has reportedly taken her release in stride and has been actively auditioning for pilot season, a time when the networks are developing new programs for the fall television season.
Overman will make her final Port Charles appearance on March 6th.
---