Alex Mendoza (ex-Joe Scanlon) will be returning to Port Charles later this month.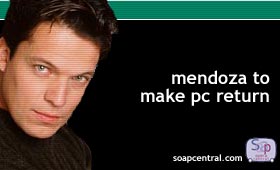 Mendoza - just one of the three actors to have played the often-recast role since PC's debut in 1997 - will return for just a handful of episodes.
Mendoza exited Port Charles on July 3rd, 2001. At the time, PC executive producer Julie Hannan Carruthers hinted that viewers hadn't seen the last of Joe.
"After completing a one-year HIV story arc, the character of Joe Scanlon is leaving Port Charles for an undetermined amount of time," Carruthers told Soap Opera Central. "Alex Mendoza has been a consummate professional and a wonderful addition to our cast."
Mendoza's first return appearance is February 19th.
---