ABC has given its final answering regarding the future of Port Charles on the network. As rumors of the General Hospital spinoff's demise continue to be documented in trade magazines, the network has announced that PC has been renewed for two more years.
"The network is in the business of making soaps, and we're very committed to the show," said Angela Shapiro, President of ABC Daytime. "There is no end date for 'Port Charles.' We look at it as part of an ongoing business."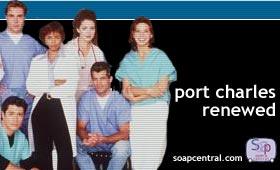 It has been widely rumored that the reality series "The Last Resort" would take PC's spot in the ABC Daytime lineup. "Resort," a reality-based series, was seen as a move to save the network a substantial amount of money.
Though PC will remain in the ABC soap lineup, there will be major changes to the show. Most noteable is the decision to abandon the show's daily tape schedule. Rather than filming Monday through Friday, PC will now tape two shows a day and do so for six months. For the rest of the six months, the show will be on hiatus. The format is similar to the ones used by primetime programs.
"The reality is that this production model will save the network a lot of money and not impact storytelling at all," Shapiro said, adding that staffers were enthusiastic.
For the first time an ABC executive acknowledged that PC's fate had been on the line. Shapiro admitted that "Resort" had been a "very strong" contender for PC's timeslot. However, the network apparently didn't want to abandon its soaps - and PC's new telenovela format ahs already begun to show promise. "Resort" will now be considered for a run in syndication rather than on the ABC network.
According to the Nielsen ratings, Port Charles' ratings are up nearly 20% in the key 18-49 demographics. The ratings surge is the largest gain of any daytime program.
In addition to its run on ABC, Port Charles also airs on the Disney-owned SoapNet cable channel, where it is also quite popular.
---
RELATED INFORMATION
News Archive: Rumors of PC's demise continue to swirl. [Dec 3rd, 2001]
The RatingsFind out how PC is doing in the latest numbers.
More News: Return to the Port Charles Online FrontPage.

SOAPULARITY: WHAT'S TRENDING

MAKING HEADLINES: NEWS FROM AROUND THE SOAPS

COMMENTS: SHARE YOUR THOUGHTS ON THIS STORY