Charles Keating
(James Richfield) will reprise his supposedly-dead role on Port Charles for the conclusion of the "Tempted" story arc.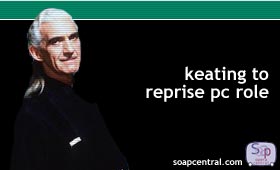 Though it is yet unclear how James' resurrection will be explained - of course, with vampires running about an explanation really isn't needed - but his return will be short-lived. Keating's on-screen return will last just about a week. Keating will again share scenes with
Lynn Herring
(
Lucy Coe
), but this time he'll also get to see his "master," Caleb.
Keating first appeared in PC's last book, "Tempted."
After months of "will he or won't he"
appear on Port Charles hype, the Emmy winning actor signed on to play a resident of Transylvania. Keating's character was killed when he accidentally injected himself with poison.
Keating returns to the show beginning November 16th.
---
RELATED INFORMATION
News Archive: AW vet Keating to join PC cast. [Jul 16, 2001]
About The Actor: Learn more about Charles Keating.
More News: Return to the Port Charles Online FrontPage.

SOAPULARITY: WHAT'S TRENDING

MAKING HEADLINES: NEWS FROM AROUND THE SOAPS

COMMENTS: SHARE YOUR THOUGHTS ON THIS STORY

© 1995-2016 soapcentral.com