Vampires will once again be roaming the streets of Port Charles, New York. Thanks to the magic of cable television, the show's
"Tainted Love" story arc
will once again be hitting the airwaves.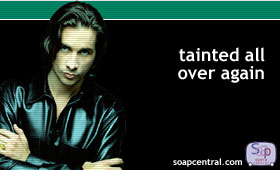 The "Tainted Love" story arc, which won critical praise for its gripping and unique storyline, didn't help Port Charles' floundering ratings, but it did help the fledgling soap find its own niche. The General Hospital spinoff now relies less and less on its parent soap and continues to make a name for itself with its new identity.
Now fans who missed what all the buzz was about the first time around will have the chance to watch the thirteen-week story arc from the beginning. And for those viewers who have wanted to see the saga again, this is your chance.
SoapNet,
the all-soap cable channel that launched in January 1999
, will rebroadcast every episode of the "Tainted Love" beginning October 23rd at 7pm (Eastern). For the channel in your area, consult your local listings. SoapNet is not available in all areas.
---
RELATED INFORMATION
News Archive: Tainted Love to push the envelope. [Jun 4, 2001]
News Archive: Disney to launch SoapNet [Apr 12, 1999]
More News: Return to the Port Charles Online FrontPage.

SOAPULARITY: WHAT'S TRENDING

MAKING HEADLINES: NEWS FROM AROUND THE SOAPS

COMMENTS: SHARE YOUR THOUGHTS ON THIS STORY

© 1995-2016 soapcentral.com