One... Two... Three... Another Joe Will Leave
For one reason or another, Port Charles is having a heck of a time working with the character of Joe Scanlon. Alex Mendoza - the third actor to play Joe - has been let go.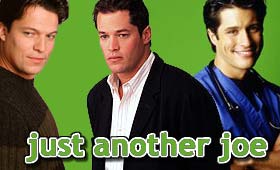 When Port Charles debuted in 1997, Michael Dietz appeared as the first Joe. In 1999, Dietz was downgraded from contract player to recurring status. Shortly thereafter, David Gail was tapped to take over the role. Gail was with the show for barely a year and left in a shroud of mystery. Mendoza had been with the show since last September.
Some have questioned if it was difficult for the viewing audience to accept Mendoza - a Latino - as a member of the Irish Scanlon family. At the time, Mendoza had indicated that he hoped viewers were able to look past his ethnicity and focus on his work.
However, Mendoza has had little work - at least on-screen. His character was involved in an HIV storyline that quickly fizzled and Joe and girlfriend Gabriela (played by Ion Overman) have been seldom seen.
Executive producer Julie Hanan Carruthers said in a statement, "After completing a one-year HIV story arc, the character of Joe Scanlon is leaving Port Charles for an undetermined amount of time. Alex Mendoza has been a consummate professional and a wonderful addition to our cast. We will miss him and wish him the best."
Carruthers called Joe's sendoff storyline-dictated and Mendoza will last air on July 3rd. The role will not be recast.
---
RELATED INFORMATION
News Archive: David Gail out as Joe Scanlon. [July 31st, 2001]
Casting News: The Scoop has the latest comings and goings.
More News: Return to the Port Charles Online FrontPage.

SOAPULARITY: WHAT'S TRENDING

MAKING HEADLINES: NEWS FROM AROUND THE SOAPS

COMMENTS: SHARE YOUR THOUGHTS ON THIS STORY