To skip over the Dankies summary and instruction and get right to the voting, click here.
NOMINATIONS OVERVIEW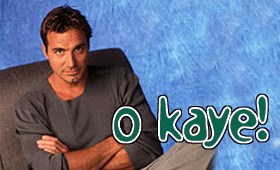 Over the past year, the changes to Port Charles have become legendary. From the show's new opening to its new storytelling format to its performers -- just about everything on the show is new. These changes were definitely reflected in the Dankies nominations.
Newcomers Kiko Ellsworth (Jamal Woods) and Thorsten Kaye (Ian Thornhart) topped the nominations this year. Kaye and Ellsworth both received five nominations including Outstanding Newcomer and Outstanding Overall Performer.
The ladies' side of the ballot was also graced by new faces. Erin Hershey (Alison Barrington) and Kelly Monaco (Livvie Reese) were each nominated for Outstanding Supporting Actress, Outstanding Younger Performer and Outstanding Newcomer. Veterans Julie Pinson (Eve Lambert) and Lynn Herring (Lucy Coe) each earned four nominations.
Of the stars no longer with the show, only Lisa Ann Hadley (Julie Devlin Morris) and Kimberlin Brown (Rachel Locke) picked up nominations in major categories. Hadley and Brown were both honored with Outstanding Leading Actress nominations.
In a rare casting of the votes, three of the four storylines nominated for Favorite Storyline also popped up in the Least Favorite Storyline category.
THE FINAL BALLOT IS SET
The first phase of the Dankies balloting took place throughout December and part of January. In this phase all Port Charles Online users were asked to offer their choices for the best of the best of Port Charles over the past year. These users were allowed to nominate any performer or storyline that they felt fit the various categories. When balloting closed, Soap Opera Central tabulated all of the nominations. The top four vote-getters in each category were placed on a final ballot, a ballot for which voting begins today. Additionally, all 16 nominees in the Outstanding and Supporting Actor and Actress categories were placed in an Outstanding Overall Performer category. Voters are asked to choose which of the nominees turned in the best performance over the past twelve months.
STILL AHEAD
Voting on the final ballot will continue through February 9, 2001. At that time voting will close. On February 12th, the winners of the Dankies will be announced on the Soap Opera Central web site. On February 19th, a special "all soap" edition of the Dankies will be held. In this special balloting, the winners of each of categories in all of the ten soap sections of the
soap
central
.com
site will compete against one another. Every user of Soap Opera Central will be eligible to vote in the all soaps ballot.
CAST YOUR VOTES
All registered users of the
soap
central
.com
site are eligible to vote in the Dankies. Users who are not registered can do so for FREE by visiting our
registration page
. Each user is permitted one vote. Users can contact friends by email or other Internet sources and point them to the Soap Opera Central web site so that they can vote. Users may cast their votes in as many of the different soap sections as they'd like.
REGISTERED? THEN CLICK HERE TO CAST YOUR VOTES!
---
RELATED INFORMATION
Cast Your Votes: Cast your votes for the best of the best of PC.
Not Registered?: Register for FREE and have access to dozens of SOC features.
More News: Return to the Port Charles Online FrontPage.

SOAPULARITY: WHAT'S TRENDING

MAKING HEADLINES: NEWS FROM AROUND THE SOAPS


We are testing changes to our Comments section. You can still log in to comment with Facebook, but you now have the option to log in with Twitter and Google, or with a Disqus account that is used on other sites with comments sections.