There are major changes in store for Port Charles. Not only will the show be getting a new batch of head writers, but the soap is taking a radical approach in developing its storylines that network executives hope will raise the show's sagging ratings.
James Harmon Brown and Barbara Esensten have been signed to take over as head writers for Port Charles. This will mark the sixth change to the head writing team in Port Charles' three-year history.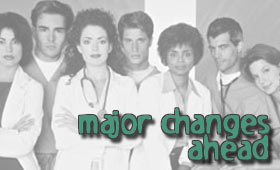 Brown and Esensten will take over for Barbara Bloom and Karen Harris around the end of November. Also jumping about is Lorraine Broderick, a familiar fixture in daytime television, as a breakdown writer.
Most recently, Brown and Esensten helmed Guiding Light. They were replaced this spring by Claire Labine, who penned storylines for General Hospital. Broderick has served as a head writer for All My Children, Another World, As the World Turns and Guiding Light.
When the new writers take to the helm, there will also be some other, more noticeable changes to the show's format. According to ABC Daytime President Angela Shapiro, Port Charles will begin using 12-week storyline "arcs," a format currently used by several primetime programs, like NBC's medical drama "ER.".
In this format, plots will develop and conclude in a three-month time frame. It is hoped that this move will give the show a faster pace and lure additional viewers while still holding on to the show's existing fanbase. Port Charles recently dropped to tenth (and last) place in the ratings.
Port Charles' ratings are hindered somewhat by the fact that not all ABC affiliates are carrying the soap. Major markets either dropped the low-rated program or never aired it, opting instead to broadcast talk shows. ABC has hoped that airing new and old episodes of Port Charles on its cable soap channel, SoapNet, would bring added interest to the show.
---