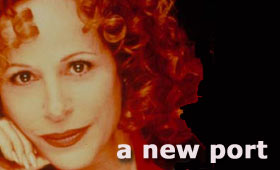 Two weeks after leaving Days of our Lives,
Louise Sorel
(ex-
Vivian Alamain
) will debut on Port Charles as lifestyle maven, Donatella Stewart. Sorel steps into the outrageous role of Donatella on March 10th as a General Hospital patient who's caught up in the tensions between nurses and management and creates some excitement of her own. Donatella is carelessly banged into a wall, loses her purse to Lucy, then loses her temper - all in her first episode! Tune in March 10th!
Sorel's last performance on DAYS will be February 22nd. She joined the NBC soap in March 1992 and in the next eight years Vivian did it all. Sorel's work earned five Soap Opera Awards and an Australian Boomerang Award for Best Female Villain. Sorel began her career on the stage, making her Broadway debut in
Take Her, She's Mine
with Art Carney and Elizabeth Ashley. She has appeared on Broadway several times since appearing in productions of
The Dragon
,
Philadelphia
,
Here I Come
, and
The Lion in Winter
. Sorel also appeared on Santa Barbara (Augusta Lockridge), One Life to Live (Judith Sanders). Sorel has also guest-starred on prime time series including
Sabrina, the Teenage Witch
,
Law & Order
, and
Knots Landing
.
RELATED INFORMATION
Casting News: Check out The Scoop for the latest comings and goings.
More Archived News: Review more past PC news headlines.
News and More: Return to soapcentral.com's PC FrontPage.

SOAPULARITY: WHAT'S TRENDING

MAKING HEADLINES: NEWS FROM AROUND THE SOAPS

COMMENTS: SHARE YOUR THOUGHTS ON THIS STORY

© 1995-2016 soapcentral.com