Bo's Woes

One Life To Live viewers were first introduced to Bo Buchanan when he came to Llanview in 1979 to join his brother Clint and their father Asa in the running of a new division of Buchanan Enterprises. His involvement with Asa didn't last too long though, thanks to Asa's unscrupulous way of doing business. Since then we've seen him run the gamut of careers -– from Green Beret to oilman, TV producer, football team owner, newspaper man, race car driver, music mogul and now Police Commissioner. His resume of women is just as long. Following is a history of his rather complicated and often tragic love life in the nineteen years he has been in Llanview.


That Lady's Gotta Go (Asa)

1980 Bo's first Llanview lady was TV talk show host Pat Ashley. Asa put his foot down on that though -- any woman that can't be walked over isn't fit for a Buchanan, it seemed. However, he failed in his attempts to break them up – even using his mistress Mimi King in the effort! He needn't have bothered because it wasn't a relationship that was meant to be anyway.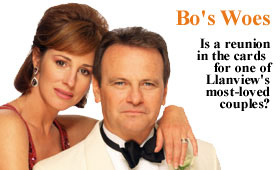 Father and Son Swap
1982 When his mother,
Olympia
, revealed from her deathbed that he was really Yancy Ralston's son, a shocked and angry Bo changed his name to Ralston and cut himself off from the Buchanan clan. It was then that Delila Ralston came to town and when Bo met her they fell in love. Heartbroken, because they were cousins, they stayed away from one another, and
Delila married Asa
. Bo turned to singer Becky Lee Abbot for comfort, and she became pregnant.
1983 When Bo first learned that Olympia deceived him, and he really was a Buchanan after all, he kept it a secret from Delila, who was by then Asa's widow. But when Asa returned to Llanview alive, Bo told Delila and she left Asa to marry Bo. Delila soon discovered that
Becky Lee
was pregnant by Bo, she faked a pregnancy of her own in the hopes that Bo would choose to stay with her. In the meantime, Becky's fiancé Drew Ralston was killed during a robbery and Asa married her to give Bo's son the Buchanan name. Having almost died in childbirth, she revealed to Bo that he was the baby's real father. When Bo learned that Delila knew that fact all along, he ended their marriage in 1984.
The Boss's Daughter

1984: Bo got on with his life and decided to try a little undercover work. He changed his name to "Bill Brady," and took a new job at Lord-Manning where he conducted an investigation of some shady goings-on with the books. When he moved in with the family of his boss, Harry O'Neill, he met Harry's eldest daughter, Didi O'Neill. Bo soon exposed a man named Mark Pemberton as the culprit, and turned the company around. Didi felt somewhat used when she discovered why Bo was really working at Lord-Manning, but she had already fallen hard for him.

1985: Didi lost her sight when she was injured in a car accident. After many ups and downs she finally agreed to marry Bo when he proposed to her with the assistance of a barbershop quartet. Bo was shot by a hit man just after the wedding, but it was obviously not that serious because on the way to the hospital in an ambulance, the two happily planned their married life together. As a wedding gift for Didi, Bo arranged a corneal transplant, after which they took an extended honeymoon around the world. That was the last we saw of them until 1988.

1988: When Bo returned to Llanview, it was to look for Clint, who was supposedly lost in the desert. He told everyone that his marriage to Didi was dissolved and then pursued Tina. It didn't take long for everyone to realize that something was very wrong with this picture, but some time went by before they learned the real story. The Bo they had recently become reacquainted with was not Bo, but Patrick Lunden who had undergone reconstructive surgery for the purpose of having an exact likeness to Bo. The real Bo was being held captive with his still much loved Didi, and Delila – all in a revenge plot against the Buchanan clan. Bo escaped and in a fight with Patrick Lunden, Didi was tragically pushed into some high powered lines and was electrocuted.
Here She Is, There She Goes!

1990 Bo found met Sarah Gordon and was once again in love. Sarah's sister Megan, who was starring in the TV soap that Bo was producing, tried to break them up. Later Sarah was kidnapped and taken to Mendorra in a plot by the evil Prince Roland to overthrow the crown prince and seize the throne for himself. It was part of Roland's plot to force Raymond to marry Sarah and abdicate the throne, but when she arrived at the altar, she found that Bo had come to her rescue and the two escaped to freedom.

Bo and Sarah were finally wed, but she was once again kidnapped, this time by Carlo Hesser. Their plane crashed and Sarah was presumed dead.


Marriage in a Revolving Door

1991 After much interference by the beautiful but demented Alex Olanov, and far from over his love for Sarah, he married Cassie Callison. No sooner were the vows exchanged, though, he and all in attendance were stunned by the appearance of Sarah who returned from the dead with the help of none other than Alex Olanov. Bo tried to stay with Cassie out of a sense of obligation to her, but finally gave into he true feelings of love for Sarah and the shortest marriage on record was annulled.

Sarah, still recovering from her recent chaotic life, joined her father on a long vacation. She eventually returned to Llanview and Bo, but on the way home from the airport, they were involved in a tragic car accident in which Sarah was killed.


Bo Sees Red

1993 While searching for the hit and run drive who ran his car off the road when Sarah was killed, Bo employed the beautiful Nora Gannon whom he came to affectionately call 'Red'. It wasn't long before they fell in love, but when Nora began to have terrible headaches and blackouts, she feared she might have been the driver they were searching for. Happily they learned that Nora was not responsible, but that she did witness the accident. Unhappily, Nora also learned that she had a brain tumor and needed a dangerous operation to remove it. If she survived the operation, she might be blind. Afraid of putting Bo through the worry about her after what happened to Sarah, she kept it secret, but Bo learned the truth just before she went into surgery. She woke up blind, but later regained her sight.

On June 1, 1995, Nora became Nora Hanen Gannon Buchanan when she and Bo were finally married in a wedding presided over by Little Richard.

Bo and Nora remained blissfully happy, with very few ups and downs, until the arrival of Nora's very efficient secretary, Georgie Phillips. Running Nora's office wasn't the only thing on Georgie's agenda, who carefully manipulated her way into Nora's personal life with her sights set directly on Bo. When Bo finally clued into what was happening, he made it very clear to Georgie that he didn't want her, but she went ballistic and set out to get her revenge on him. Having filmed Bo and Nora's lovemaking with a hidden camera in their bedroom, she expertly transplanted her own image in the scenes and then made prints which she placed in an envelope and left behind on a coffee table in Rachel's apartment. Of course, Nora discovered the damning evidence and followed Georgie to the Buchanan hunting lodge where there was yet another scene set up to look like Bo was having an affair. Nora left the scene in tears, threw her wedding ring out the car window, and headed for a biker bar where she drank herself into oblivion. Luckily for her one of the bikers found a phone number in her wallet and called Sam. Sam came to the rescue and took Nora to a motel to sleep it off. When she awoke, she cut off the hair she knew Bo loved so much. She then took Sam's laptop and used it to dial into her office computer files where she found 'love letters' from Bo to Georgie.

If Nora had stayed around the Lodge a moment longer, she would have witnessed Georgie's plot gone wrong. We later learned that Nora's daughter, Rachel, had been waiting at the lodge for Georgie, where she bludgeoned Georgie to death. The evidence mounted against shell-shocked Bo who was eventually arrested and charged with the murder. Nora was reluctant at first to believe Bo's story, but she soon realized that Bo would never betray her and they united in a fight to clear his name.

Bo's name was finally cleared, but it was not smooth sailing ahead for him and Nora. In their hope to have a child, Bo had his sperm count tested by the hospital, but the results were intercepted and changed by Lindsay Rappaport who hates Nora because Lindsay's ex-husband Sam had never gotten over her. Bo's son Drew was shot and killed by Barbara Graham who had intended to kill Kevin Buchanan. In his grief over Drew's death, Bo took off by himself in a fishing boat, and Nora, fearing that Bo might harm himself in his despair, told him that she was pregnant with their child. This brought Bo back to the present and gave him a reason to live again. However, Nora and Asa found the changed test results that read 'negative', and panicked over how to explain her pregnancy to Bo. She decided to hide the test results and then met Sam at a motel where they slept together and she became pregnant. Lindsay saw them entering the room together and correctly guessed the reason why. Much later, during Nora's Woman of the Year award at The Palace, Lindsay publicly revealed the secret and Bo angrily walked out on Nora.

Today, one of Llanview most loved couples remains apart. Nora has only just discovered that Bo's test results were in fact 'positive', and that Bo could really be the father of her son, Matthew. Unfortunately, Lindsay, ever hovering wherever she is least needed, knows that Nora is investigating and has arranged to have Matthew's DNA tested. She is once again attempting to cover her tracks, but her attempts are clumsy. How will the news be received if and when the truth is revealed to Bo and Sam. Who is Matthew's father? Will Bo turn on Lindsay and return to Nora? Does Nora still love Bo – enough to leave Sam and return to Bo? It looks like we may all be hanging in suspense for a little while longer. Who knows? Maybe Rachel's next victim will be Lindsay! Is that cheering I hear out there?
Robert S Wood joined the show as Bo Buchanan in 1979. He left in late 1985 and returned early 1988.
---
.
--->
---
2018 DAYTIME EMMYS: SOAP CENTRAL'S COMPREHENSIVE COVERAGE